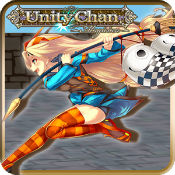 UnityChan -Magician- v1.0.13 Mod APK for Android.
Unity of image character " Unity -chan " is trotting the world of 3D action RPG !!
Also change appearance of When equipped with weapons and armor Unity chan
Strong weapons and was allowed to equipped with armor , and try to steadily stronger!
※ weapons and armor it is also possible to strengthen .
[Functional overview]
Equipment system
Equipment enhancement system
Skill system
Battle system
Shop system
[Method of operation]
With one hand easy operation.
Remember a lot of moving way and try to find your own technique !
-Moving method
And trying to move freely the Unity chan Slide the screen .
-Avoidance operation
Unity -chan is sliding by quickly flick .
*During sliding it will be invincible .
-Method of attack
And the normal magic attack by double-tap the screen .
-Skills activate
Skill window opens Press and hold and hold the screen .
Skills triggered Continuing to flick in the direction of the skills!
[App Overview]
App without charging.
*This app is available in the " unity -chan license " .
*Audio material we borrowed from the devil soul like .
[Future updates planned]
opinions from users of everyone , we will support as much as possible to your feedback .
[Offer]
GomiKingdom
What's New
Invincible time increase when the skill activate
Invincible time increase at the time of sliding
Quest balance adjustment of
Add new Quest 11, 12
Mod info:
1. Infinite Gold
2. Infinite Damage
3. Infinite HP
4. Infinite SP
5. Infinite Defence
Download [Google Play]