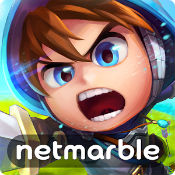 Epic Saga v1.3.4 Mod APK for Android.
■■■ Update Details ■■■
Epic Saga has been reborn with the input from our loving fans!
Lots of new contents has been added!
The Special Update Events are underway!
# Various New Modes!
– Goblin Mine: Try your luck defeating the gold hording goblins!
– Infinite Tower: Every day holds a new challenge! See how long you can keep going and get great rewards!
– Hero's House: Gold? Keys? Experience? Get everything you need!
# Battle System and Skill Armor Restructured!
– Out with the old, and in with the new! Experience a new dynamic battle system that's better than ever!
– Discover the new armor and skill avatars!
# Summon your guild members in battles
– When the battle is getting tough, call upon your friends and fellow guild members! Everything is better in numbers!
■■■ Game Specifications ■■■
1. Action packed, one-touch game!
Experience the powerful but simple battle!
2. Experience the exciting and powerful skills!
Everything from magic to super Ultimate skills!
Utilize the skills and experience fun in this strategic game like never before!
3. Awesome changing heroes as they level up!
Level up your heroes with fights against fallen souls!
See with your own eyes how heroes change as you level them up!
4. A variety of thrilling content!
– Adventure Mode: Experience a thrilling adventure where your hero battles againstfallen souls!
– Arena Mode : Fight for honor against other warriors!
– Daily Raid Mode: Fight against breathtaking colossal bosses!
– Infinite Tower Mode : Challenge your way through limitless battles to earn great rewards!
– Goblin Mine Mode : Enjoy and reap all the gold!
5. Community
Game Forum : http://www.mobirum.com/epic_en
Facebook Fan Page : http://www.facebook.com/officialepicsaga/
If you want to see all the events and discussions, go to the community forum or the fan page to see more details.
6. Terms & Conditions
– Terms of Service: http://help.netmarble.com/policy/terms_of_service.asp
Mod info:
Random High Damage
Cheat Tools Removed
DRM Bypassed
Download [Google Play]