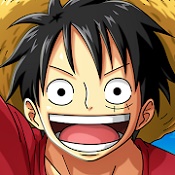 ONE PIECE TREASURE CRUISE v10.1.0 Mod apk for Android.
Form your own pirate crew and set sail for adventure!
Use the simple tap controls to pull off powerful combos!
The world of One Piece awaits you!
-An All-New Battle System Made Just for Your Smartphone!-
ONE PIECE TREASURE CRUISE features intuitive tap controls that'll have you sending foes flying in no time! Tap your characters at the right time to form combos and deal massive damage! What's more, each character possesses unique special abilities that make battles even more exciting! Re-enact thrilling showdowns from the original story using your favorite One Piece characters!
-Relive Your Favorite Moments from the One Piece Storyline!-
The tale begins in Fushia Village, where a young Luffy has his fateful encounter with Red-Haired Shanks. With each Quest you complete, another chapter of the epic tale unfolds, allowing you to experience the magnificent story of One Piece all over again!
-Form a Crew with Your Favorite One Piece Characters!-
Collect WANTED posters in battle and head to the Tavern to recruit new characters for your crew! There are tons of recruits available, including both major and supporting characters! Gather your favorite pirates and train them to become the mightiest crew to ever sail the seas!
-Perform "Tandem" Attacks to Deal Huge Damage!-
Chain together attacks with certain characters in a specific order to perform a Tandem attack that deals incredible damage to all enemies!
[Recommended OS Versions]
Android
4.0 or later [Disclaimer] (1) Operation is not supported for models and OS versions other than those recommended.
(2) Depending on your usage, there may be cases where operation is unstable even with the recommended models.
(3) Regarding the recommended OS versions, although it says "Android 4.0 or later," this does not guarantee that the latest OS version is supported.
What's New
– Added Treasure Map Crew Edit
– Added lower League entry option for Treasure Map
– Added Home Crew feature
– Added new features for Characters
– Adjusted initial Character Box space to 500
– Adjusted maximum Character Box space to 3,300
– Adjusted initial Crew Cost Max to 230
– Adjusted existing features
– Other minor fixes
ONE PIECE TREASURE CRUISE v10.1.0 Mod info:
-Mod Menu
-High Damage
-God Mode
-1 Wave Win
-Unlimited Cards Space
HOW TO INSTALL
1.Link your account to any social (simply backup your account)
2.Uninstall your current version
3.Download & Install the MOD apk
4.Enable "STORAGE" permission for OPTC
5.Download the External Configuration file provided below!
6.Place the TXT file in the main folder inside your device (Check details below)
HOW TO ENABLE PERMISSION ON ANDROID
1.Open device "Settings"
2.Go to APPS
3.Scroll down to desired App and TAP IT
4.Go to "PERMISSIONS" and tick "STORAGE"
*IF YOU DON'T DO THIS MOD WILL CRASH
Config txt file details
Config txt file details
Where to place the config txt file?
The txt file must be placed on the same level as folders such as Android, Downloads & Pictures.
In some cases it is defined as SDCARD (not the external micro sdcard), emulated/0, mnt/sdcard (BlueStacks). Check here > https://i.imgur.com/3zpihwQ.png

HOW TO USE EXTERNAL CONFIGURATION TXT FILE
This is quite simple, this simple txt will have 4 lines of values
0 means respective mod is OFF
1 means respective mod is ON
> 1 means custom value (only SOME lines will support this)
!!! ORDER MUST NOT BE CHANGED,INVERTED OR WHATEVER, THE MOD IS STUPID AND DOESN'T KNOW WHAT YOU DO !!!
ex.
Line 1 – [damage multiplier] – 0 is off – any number greater than 1 is good as multiplier
—- Line 1 accepts value such as 1.5 too!!! USE . (DOT) not , (COMMA)!!!
Line 2 – [God Mode] – 0 is off – 1 is ON
Line 3 – [Unlimited Cards] – 0 is OFF – 1 is ON
Line 4 – [One Wave] – 0 is off – 1 is ON
Once you change the values you will have to restart App to apply the changes!
How to Backup your account and update the mod from our older ones to the new one?
Download the signed apk from the link given below
Install the signed apk over the old mod (it will overwrite)
Link your account with your social media account (facebook for example)
Uninstall the Game
Download and install the new version mod apk (v9.5.1)
Login the Game and enjoy!
Download [Google Play]