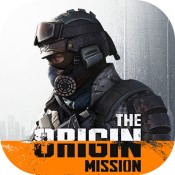 The Origin Mission APK + OBB latest version download for free.
The Origin Mission is an FPS competitive mobile game base on realistic style.
In order to make your game experience more smooth, we open the server regularly every day to ensure the stable operation of the test server.
Beta Test Opening Time:
Jun 3rd, 11:30-24:00
Jun 4th, 00:00-23:30
After June 4th, the beta opening time will be adjusted to 11:30: -23:30 every day.
The gunfire is never stopping here, please join in the battle right now and show off your one shot one kill in the duel.
Game Feature:
The console game's image quality, that simulates real firearms feelings.
The game uses the industry's mainstream Unity Engine, combined with PBR rendering technology, and is visualized and optimized for the mobile device so that presents the highest quality visual performance. Real reproduced various firearms props, unique shooting feelings, and the operating experience, all bring you into a Hollywood-level special effects movie.
Diverse modes, classic upgrades, and more battles.
Classic blasting, Team competition, Sniper mode, and a variety of new leisure and entertainment modes allow you to fully experience the feeling of fighting side by side with the team! The diverse gameplay makes every competition a brand new challenge, and the exciting battle never stops!
Hundreds of firearms, ten thousand paintings for you to choose.
Realistic and detailed weapon design, actual weapon weight and ballistic trajectory, unlimited skin painting can be completely arbitrary! Please take great pleasure in enjoying hundreds of free firearms and thousands of personalized paintings.
The pure gun battle, no attribute payment.
The muti-angle dynamic balance system, no attribute payment, will lead you back to the most primitive fun of FPS games, and enjoy an absolutely fair competitive experience in gunfire duel.
The same stage competes, global fighters all gather to the battlefield.
"The Origin Mission" recruits elite players from all over the world to join this peacekeeping operation. Who is the global gun king? Who is the world-class tactical team? Compete with millions of players from all over the world and enjoy the fun of fighting together!
Now, what are you waiting for? Please download "The Origin Mission" and enjoy the joy of victory during the gunfight.
Root required? No,works on both rooted and no-root Android 4.1+
OBB required? Yes, follow instructions below to install.
How to install?
1. Download and install Mod APK from the link given below, after installed, don't run the game yet.
2. Download the obb file then extract the obb folder "com.ryipgx.tom" to Android/obb (You might need ES File manager / X-plore file manager / Root explorer (Android 11 users need this) and ZArchiver / RAR for Android to extract the obb file if you haven't had one of these similar tools installed)
3. Done!
Download [Not in play store] – Game is in beta
The Origin Mission v0.1.1 Original APK