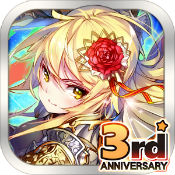 Astral Stairways v3.6.0 Mod APK for Android.
Perfect RPG for anime fans!
Travel through the rift of time! Save the 800 worlds! With the power of summoning mighty followers, the hero will save the 800 worlds! Under the guidance of Goddess Kala, explore the worlds and defeat the greatest evil force!
Astral Stairways 3rd Anniversary!
The 3rd-Anniversary Celebration Event has already begun!
Exclusive quests and events are waiting for you!
The all new Celestial Compass and daily missions bring about new challenges,
not to mention the rewards coming with them!
We appreciate your support! For this, lots of exclusive offers are made available!
Over 1300 unique followers drawn by our incredible illustrators are waiting for you!
Mod info:
– God Mode (Enemies atk 1) – not working on all stages! 
– Attack x10 
– Defense x10

Google+ login possible? No. 
Facebook login possible? Yes. But remove or disable your facebook app from device. 
Specific game account login possible (for example: HIVE)? Yes.
[ads1]
Download [Google Play]
Astral Stairways v3.6.0 Mod APK | Mirror 1 | Mirror 2 | Mirror 3
[toggle title="Old Versions" state="close"]
Astral Stairways v3.5.3 Mod APK | Mirror 1 | Mirror 2 | Mirror 3
Astral Stairways v3.5.2 Mod APK | Mirror 1 | Mirror 2 | Mirror 3

Astral Stairways v3.5.1 Mod APK | Mirror 1 | Mirror 2 | Mirror 3
[/toggle]