Description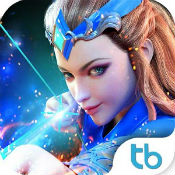 Song of Knight v1.1.7 Mod APK for Android.
•Synopsis
《Song of Knight》 (SOK)is a 3D magic ARPG mobile game created by the best game development team of The 9 Limited company.With awesome graphics, many combos and exciting Guild war, this game will attract you with its unique experience.
•Feature:
【Such magnificent, Welcome to the magic world!】
Our professional team will brings you in a large magic world: Step over thick forest, dark underground palace or snowy peak by using the new Rendering of light and discover a completely new visual experience.
The Art team have been very carefully about the design of each and every map of the game, so that players can take part in a more realistic and immersive game experience!
【Combo is everything】
《Song of Knight》is different from other games in Combo System. Depending on your timing, each combo will cast a different skill. Let's experience this new combo system! Freedom is the keyword during battles. Different skill will have different effect. You will immediately enjoy the Combo system!
【No lag, let's fight】
As a ARPG mobile game, the thing players hate the most is net lagging. Our game made it sure that lag won't shows and we keep it accurate in Millisecond unit during battles, in order to let players completely enjoy the game.
And the same time, battle Mania must can enjoy these challenges: arena and qualifying. Besides, we added unlimited PK-Crystal Fairyland maps. After joining your guild, you can play the PVP (Our most important core of this game) such as territory war, city war in our game. We put GVG in our game from client game. With our improving and changing, this completely combine it with SOK that you can have battle with your brothers and friends every day.
Mod info:
1. God Mode*
2. One Hit Kill
3. Unlimited Mana
4. No Skill CD
* Boss sometimes damage
Instruction:
1. Download obb file from below.
2. Extract obb file and copy the folder "com.sokgp.shengqishi" into  sdcard/android/obb/[here]
3. Download and Install my modded apk.
4. Enjoy
The server of this game can be very slow.
Download [Google Play]