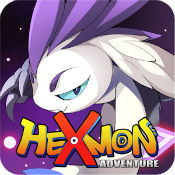 Hexmon Adventure v1.0.6 Mod APK for Android.
"Welcome to the world of Hexmons! [Hexmon Adventure] is a fun strategy game where you can play with Hexmons. "
"[ Hexmon Adventure] is the story of you, the masters, trying to become Grandmasters. In order to become a Grandmaster, try making Hexmon Friends and creating a strong deck with them. By proving yourself as a greatest master in duels and national battles, you can earn the title of Grandmaster."
■■■■■ Game description ■■■■■
1. Collect unique Hexmons to build a powerful deck. You can explore piece dungeons to create 5-Rate Hexmons.
2. Enjoy the wins with strategy. You can create hundreds of different strategies with the various skill effects. Hexmon balance and liaisons are the key to create endless strategies.
3. You can collect several different types of masters from scenario quests. Show the fantastic chemistry with the skills of masters and the characteristics of Hexmons.
4. When a raid boss appears, the town of Adela will be consumed by darkness. Work together with friends to defeat the boss before the village is burnt to the ground. You can obtain stickers which make Hexmons even stronger as a reward.
5. Realtime strategic battles with users from all over the world! Create your own deck and you can have realtime battles with other users from all over the world. Show off your strategic skills to all of the other users.
What's New
Bugfix
1. Capturing return to normality.
2. View ad movies return to normality.
Mod info:
1.) 2x dmg
2.) enemy dmg 0.7x
3.) hexmon storage increased 10x
4.) dodge increased significantly
5.) gold drop randomized — visual but didn't bother to remove
Install Steps:
1.) extract obb, copy folder com.ohoo.friday to /Android/obb/
2.) install modded apk
3.) play
Notes:
1.) this works for all areas except live PvP
2.) Korean game but surprisingly everything is in English
3.) i can't run this game in Memu, probably because of its google+ checks. if you get stuck on loading, then try out the original apk first
Download [Google Play]
Hexmon Adventure v1.0.6 Mod APK | Mirror 1 | Mirror 2 | Mirror 3

Hexmon Adventure v1.0.6 OBB | Mirror 1 | Mirror 2 | Mirror 3