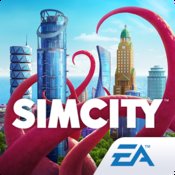 SimCity BuildIt v1.19.51.66276 Mod apk for Android.
Google Play Cyber Weekend Sale! For a limited time only, get up to 50% off on select Parks, Landmarks, and more until December 2!
WELCOME MAYOR! Build your own beautiful, bustling city where your citizens will thrive. The larger and more intricate your city gets, the more needs your citizens have, and it's up to you to keep them happy. This is an all-new SimCity Game – re-imagined for mobile!
This App offers in App purchases. You may disable in app purchases using your device settings.
SimCity BuildIt v1.19.51.66276 MOD apk Features:
BUILD YOUR CITY
With countless buildings and vivid, 3D-quality graphics, this is the most realistic city builder on mobile. Place buildings strategically to keep the taxes flowing and your city growing. Pinch, zoom, and rotate 360 degrees as you manage and expand your city on the go – both online and offline.
BRING YOUR CITY TO LIFE
Create resources and build up your skyline. Then trade resources with friends and other cities. Complete boat orders and ship cargo from your airport. Build Tokyo-style neighborhoods and unlock exclusive buildings like the Empire State Building and the Arc de Triomphe. Expand along the beach with a marina, waterpark, and more. Even unleash natural and not-so-natural disasters, like UFOs!
KEEP YOUR CITIZENS HAPPY
Solve real life challenges like traffic, fires, and pollution. Provide services like power plants and police departments to meet your citizens' needs, and boost your population with parks and education. Keep traffic moving with grand avenues and streetcars. Complete fun challenges to shape your society.
Watch your city come to life – night and day!
What's new in SimCity BuildIt v1.19.51.66276:
Hey, Mayor! We've made some enhancements to Club Wars to improve your playing experience. Also, Contest of Mayors Seasons is back on November 22nd with the Wonders of SimCity, where you can:
• Progress through leagues to unlock six unique landmarks like the Hanging Gardens of Babylon
• Boost population with each building
And, receive a free building when you sign up! Add something special to your city today. Thanks for playing!
SimCity BuildIt v1.19.51.66276 Mod info:
1. Unlimited Coins
2. Unlimited Money
3. Unlimited Golden Keys
4. Can be played online
5. Player ID is NOT associated with others player
6. This will generate your own unique player ID
7. All Versions Supported
8. You can update the Game after applying this cheat
9. All Buildings already Constructed
10. All Constructed Buildings are Omega Buildings
11. All Buildings fully upgraded
12. More than 2 million Population
13. 100 Happiness
WARNING!!!
• This will remove your current progress!
• Backup your game Data!
Downloads: [Google play]
SimCity BuildIt v1.19.51.66276 MOD APK | Mirror 1 | Mirror 2