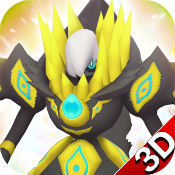 Pocketown v1.3.0 Mod APK + DATA for Android.
[Brief Introduction]
Welcome to the legendary town – Pocketown!! Your will have amazing experience here. Interesting and exciting adventure await for you. In Pocketown, numbers of pets can be captured. Go enjoy the happiness of pet raising and adventures.
[Feature]
—Collect & Evolve—
Numbers of legendary pets live in Pocketown! Start your journey in Pocketown and raise your own pets! Give them your patient love and they will grow and evolve!
—Awesome View. Free Exploration—
Awesome 3D View.Amazing Scene!! You can freely explore the world of Pocketown. Go adventure and unlock all the hidden secret ! What an amazing journey!
—High-Quality Remake—
High-Quality Remake! from the Handheld game console. Go remind your memory in Pocketown! You can also make new experience with trainers all around the world.
—4 Players Real-Time Battle—
Real-Time Battle with your friends. Allow 4 trainers battle at the same time. Go show your strategy and brave! An excellent trainer should lead his pets to victory with good strategy!!
Mod info:
* VIP mod basically is just visual but you can enable fight speed x3, which is only for VIP3+. But you don't get VIP Bonus.
** Enemy and you have 1 Hit Damage. Keep make directly the first hit to win. Damage is only for physical attacks. Wild pokemon are always alone, so you never will have problems, cause you have more Pokémon. On fights with NPCs you are mostly the first turn, so that's no problem as well.
*You need to download and install both mod apk and obb file,otherwise you will ask some questions.
Download [Google Play] – This game is unreleased, it's still in beta
Pocketown v1.3.0 Mod APK | Mirror 1 | Mirror 2 | Mirror 3
[toggle title="Old Versions" state="close"]
Pocketown v1.2.0 Mod APK | Mirror 1 | Mirror 2 | Mirror 3
[/toggle]