Description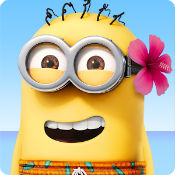 Minions Paradise v11.0.3403 MOD APK for Android.
Join the Minions on the vacation of a lifetime! Watch as a lovable-yet-bumbling Minion named Phil accidentally sinks an entire cruise ship carrying his vacationing Minion buddies. To redeem himself, Phil must turn a deserted tropical island into the perfect vacation destination. Illumination Entertainment – the creators of the MINIONS movie – and EA invite you to help Phil build his ultimate Minions Paradise.
This app offers in-app purchases. You may disable in-app purchasing using your device settings.
Minions Paradise v11.0.3403 MOD APK features:
PARTY WITH YOUR FAVORITE MINIONS
Break out the tiny umbrellas and crack open some coconuts. Phil's turning the island into a party-paradise, and you're invited – along with Kevin, Stuart, and Bob from the MINIONS movie. Help Phil throw incredible Minion parties and transform your island into the perfect getaway. Pass the flamethrower!
UNLEASH YOUR CREATIVITY
Customize your island with hot tubs, hammocks, and beach volleyball courts, all with brand-new Minion animations. Plant firefly trees, harness power from electric eels, and grow bushels of bananas to make an unforgettable island for Phil and his Minion buddies.
EXPLORE YOUR PARADISE
The more land you get, the more fun your Minions will have! You can also become an expert at alligator waterskiing, dive off waterslides, and much more.
TAKE VILLAINOUS VACATIONS
All Minions need a villainous boss to serve! Aid Phil in building a special resort for all your favorite villains from the MINIONS movie. Help these villains enjoy paradise while putting their own dastardly plans into motion.
What's New in Minions Paradise v11.0.3403 MOD APK
We're celebrating 1 year of Minions Paradise. Thank you for playing!
We've heard your feedback, and have made some exciting changes and behind-the-scenes improvements that will keep your adventure going strong.
This update features a host of new island-tastic decorations like fences, paths, and flower beds. Keep your paradise looking beautiful and unique with different ways to place and connect your decorations!
Minions Paradise v11.0.3403 MOD Info:
1. Get Massive xp everytime u build a decoration
*Need to be level 3 to build decorations.*
Downloads: [Google Play]

Minions Paradise v11.0.3403 MOD APK | Mirror 1 | Mirror 2 | Mirror 3
[toggle title="Old Versions" state="close"]
Minions Paradise v10.0.3336 MOD APK | Mirror 1 | Mirror 2 | Mirror 3

Minions Paradise v9.1.3207 MOD APK | Mirror 1 | Mirror 2 | Mirror 3
[/toggle]