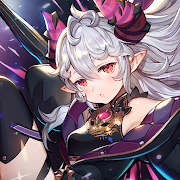 King's Raid v4.30.1 Mod APK for Android.
▶ Strategy-based real-time battle by utilizing Skill compositions!
Thrilling experience from dynamic real-time battle!
Use diverse hero & skill compositions to defeat the enemy!
▶ Defeat the giant dragon with your friends in various real-time PvP contents!
Acquire Legendary Gear by defeating the giant dragon with your friends!
Conquer each stage of the Raid and experience the Challenge Raid!
Participate in the Arena to play against 13 million players!
▶ A game with a great universe (storyline)!
Experience the breathtaking, distinctive, and endless adventure of King's Raid!
Obtain and progress heroes for free during your adventure to unlock new stories!
The never-ending adventure of King's Raid that you have never experienced in previous RPG games!
▶ Characters with full of emotions and expressions!
Real 3D characters just like anime!
Decorate your characters with various Costumes!
Mod info:

1. MOD Menu
A stylish UI allows you to handle the cheats on your screen.
2. Equipment Stats Multiplier
Multiplies your equipped equipment stats. It will multiply all your stats, damage, defense, crit chance and whatever else your equipment have. The limit is set from x1 to x100.
3. God Mode
You don't take any damage.
4. Weak Enemies
The enemies are kindly disarmed. They don't have any resistance and cannot block your damage.
5. Instant Win
No enemies on map. Run and win.
6. Unlimited Skills
Use skills as much you want. This contains Skill Cooldown & Skill Costs. Spam the hell out of it 😉
How to install?
Download and install Tutorial APK from below (If you are first time playing this game)
Play the game and finish tutorial
Download and install modded apk from below (will overwrite the tutorial apk and keep your progress)
Enjoy the game.
Root required? No, works on both rooted and unroot Android 4.1 and up
[ads1]
Download [Google Play]