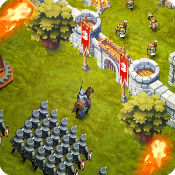 Lords & Castles v1.55 Mod APK for Android.
Take control of your own REALM, and turn it into the MOST POWERFUL one. Design the best DEFENSES for your people by creating mountains or digging moats, and train your army to combat against your RIVALS in EPIC battles.
Arrange the buildings wisely in order to make your subjects happy, and gain their favor. Research new technologies to improve your kingdom, and beat your enemies in the battlefield.
RULE THE KINGDOM
Attack your enemies' cities to get extra resources. Destroy their defenses and plunder your rival's castle.
DESIGN YOUR DEFENSES
Help your soldiers to defend your land by creating mountains and digging moats. Take advantage of the terrain to improve your defenses!
FORGE ALLIANCES
Join your friends to build a powerful realm and crush your enemies
MAIN FEATURES:
– Design your city. Create mountains, and dig holes to defend it.
– Attack other players' land, and defend yourself from them
– Chat with other players
– All game modes can be played for free
– Sign in to Google Play Games to play on various Android devices
– Optimized for Android tablets and cell phones
What's New
System optimizations and bug fixes.
Mod info:
– Free Skipping
– Free Instant Upgrade
– Free Research
– Free Training
– Buy Missing Resources for Free
Download [Google Play]
Lords & Castles v1.55 Mod APK | Mirror 1 | Mirror 2 | Mirror 3
[toggle title="Old Versions" state="close"]
Lords & Castles v1.50 Mod APK | Mirror 1 | Mirror 2 | Mirror 3
[/toggle]