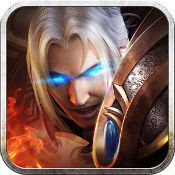 Legend of Norland v3.0.6 Mod APK + DATA for Android.
Legend of Norland, a MOBA&ARPG for mobile, is now making huge waves in the whole world. See what's different!
●MOBA&ARPG
-A deep and immersive multimedia story experience! Match and combine numerous abilities to fit dungeon!
-3V3 online battle against millions of other players! Collect heroes, weapons and defeat your enemies in this Action game for free!
●Master Art Team
-Beautifully rendered fully 3D graphics
-The art team has taken part in the development of The Elder Scrolls, League of Legends and a bunch of well-known masterworks.
●Training System
-Train and equip your heroes as you see fit, and customize your own team.
-Switch them during combat and enjoy the frantic combo!
●3V3 Battle – Mass Brawl
-Who's the strongest? Crush tons of enemies and destroy towers. Your journey to glory begins here!
●Special Quick Time Event
-Slide quickly to cast the exclusive ultimate ability!
Saving Norland, expeling darkness, become the final champion in arena.
All of these and more are waiting in your Legend of Norland journey.
What's New
[What's new in this version]
New Event:
-Dragon Spells appear in Common Stages, Elite Stages, Treasure Hunt and Team Raid;
-Collect Dragon Spells for a chance to get legendary weapons!
Legend of Norland is preparing herself to meet all players, stay tuned!
Mod info:
1.) high dmg
2.) always crit
Install Steps:
1.) download and extract OBB place to your /Android/obb/ folder
2.) install modded APK
3.) play
Alternative install steps:
1.) install modded APK
2.) try to run, it will fail with black screen
3.) download OBB
4.) put the OBB file (and only the file!!) inside the empty obb folder for the game
5.) play
Notes:
1.) These mods should work in PvE and PvP
2.) Crit here doesn't cost you rage, but if you use crit manually then it would consume rage
3.) anti-cheat is removed, someone said this is very important without understanding that we are modding community!
4.) a quick note about OBB download…the game will try to download OBB on first install, but sometimes this process will fail. Hence it's better if you just download the OBB manually as per installation above.
Issues associated with the game are best confirmed by installing original APK before reporting them here.
Usage of mods leads to banning, or worst someone next to you who've seen how awesome you are in the game will report you! You've been warned.
[ads1]
Download [Google Play]
Legend of Norland v3.0.6 Mod APK | Mirror 1 | Mirror 2