Description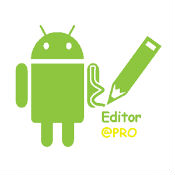 APK Editor Pro v1.10.1 Mod APK for Android.
APK Editor Pro is a powerful tool that can edit/hack apk files to do lots of things for fun.
It can help us to do things like string localization, background image replacement, layout re-architecting, and even ad eliminating, permission removing, etc. What it can do depends on how you use it. However, to use it well, we need a little bit professional skills. Don't be afraid, some examples are given in the help page.
This is the pro version, compared to free version, here is some differences:
(1) No function limitation
(2) No ad
What's New
fixed the crash issue
added a simple web server & png editor
APK Editor Pro Mod Info:
4-06-2021:
– Ability to update tools when installed over an old version (menu> Update Tools).
– Fix for general editing when it was not possible to change the name, package, version of the application on android 9 and above.
– Fixed the situation when after deleting the folder in which the apk file was selected, it was impossible to get into the internal storage at the next selection.
– Fixed a bug due to which AndroidManifest.xml was not compiled.
– Added signature v2 (such a signature is required on android 11) and the option to select the signature version.
The code also supports v3 and v4 signature, but it is not needed yet, so it is not included.
– The ability to select a compression level has been removed because the executor of this compression was removed along with the old signature.
– Added the ability to verify the signature using the same apksign code. If the minimum apk version is the one where version 1 is required,
and although there will be a signature of both 2 and 3, but not v1, the verification will fail,
but the signature v2, v3, v4 will be displayed. If the minimum version of apk is the one where you can use v2, and the apk is signed by v2, then v1 skips and writes to the log that v1 is false.
– Ability to only sign .apk, no disassembly.
– Ability to view / edit SQLite databases (file extension must be .db).
– Fixed syntax colors, now they are inherited from the selected theme (syntax color settings and ColorPicker are removed as they are no longer needed).
19-05-2021:
– Added a new theme changer with DayNight support. The original interface was taken as a basis.
– Added the ability to create templates
– Added syntax colors and ColorPicker settings
– Added the ability to clear the search history for strings, resources and manifest
– Added new icons for different extensions: zip, html, smali, etc.
– Added settings for displaying elements of the main screen, while in hidden settings: long press on the heading "Settings"
– Added ProgressBar during patch execution.
– Auto-display keyboard and auto-selected text on line feed
– Improved language change. Localizations: so far only en and ru
– Removed side menu, image loading, help and WebView in translation and patch plugin dialogs (window opens faster).
– Removed full screen mode and orientation in code.
– Languages:En,Ru;
– armeabi armeabi-v7a arm64-v8a
Download [Google Play]
[toggle title="Old Versions" state="close"]
APK Editor Pro v1.10.0 Final Mod Multi (Android 4.1+): armeabi, armeabi-v7a, arm64-v8
APK Editor Pro v1.10.0 APK [Multi/Android 4.1+]
APK Editor Pro v1.10.0 Final sdk14 (Android 4.1-4.4.4, in case the Multi version does not work):
Material Design Mod Light theme (Android 5.1+): armeabi+ armeabi-v7a + arm64-v8a :
APK Editor Pro v1.10.0 APK [Multi/Light]

APK Editor Pro v1.10.0 APK [Arm64 v8a/Light]
Material Design Mod Dark theme (Android 5.1+): armeabi, armeabi-v7a, arm64-v8a:
APK Editor Pro v1.10.0 APK [Multi/MD Dark]

APK Editor Pro v1.10.0 APK [Arm64 v8a/MD Dark]
APK Editor Plus v1.10.0 Final Dark Mod Multi (Android 5.1+):
armeabi, armeabi-v7a, arm64-v8a:
APK Editor Pro v1.10.0 APK [Multi/Dark]
[/toggle]