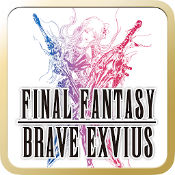 FINAL FANTASY BRAVE EXVIUS v2.9.0 Mod APK for Android.
Story, character, the world, everything is original!
And give to all RPG fans, the new Final Fantasy
◆ Final Fantasy Brave Aix via scan ◆
—————————————-
◆ Games Info ◆
—————————————-
▼ nostalgic also new royal road RPG
Of nostalgic Final Fantasy
While leaving the taste, it evolved into a completely new RPG.
▼ highly simple operation while also strategic and Battle
High action lead to start moving when you tap the battle.
Magic, a combination of such ability,
Battle of the full strategic incandescent is I enjoy.
Is an active time battle and command Battle
Born fused to the new battle of the forms here.
▼ To capture the dungeon in the field search
It operates the characters in touch, to explore the field and dungeons.
Battle with monsters of course, you can find the item,
Find the hidden passage, you can discover a new route …
In addition to the information collected in the city, shopping and, Quest of the order, such as
Preparing for the adventure is important. The best part of the RPG is condensed here.
▼ character is lively and moving!
Latest dot technology give a new breath to the world of FF.
a number of diverse actions that unique character we micelles.
Deathblow, magic production of powerful packed like.
▼ summon the powerful CG movie
Video populations is Square Enix boast
"Visual Works" and high-definition CG movies by production.
Series familiar summon directing a masterpiece of quality.
▼ past FF series characters also participated!
FF series familiar character appeared numerous.
And beyond time and space, warriors of legend gather here.
—————————————-
◆ Story introduction ◆
—————————————-
Vision Vision –
Feelings of people it is to be implemented.
Lapis Lapis –
It vision was filling
world crystal exists.
People by the power of Crystal
Filled countries had continued to flourish.
However, as darkness undermine the light
That peace is condemned as false ones.
When ticking of lapis is to destruction,
Two knights stand to darkness along with the vision.
This new crystal of the story –
Mod info:
1. Monster Low Defense
2. Monster Low Attack
3. Monster Low MP
4. 100% Drop Rate
5. Infinite MP
6. Free Limit Bursts
[ads1]
Download [Google Play] – JP version

FFBE v2.9.0 Mod APK | Mirror 1 | Mirror 2 | Mirror 3

FFBE v2.8.0 Mod APK | Mirror 1 | Mirror 2 | Mirror 3
[toggle title="Old Versions" state="close"]
1. Monster Low Defense
2. Monster Low Attack
3. Monster Low MP
4. 100% Drop Rate
5. Infinite MP
6. Free Limit Bursts
FFBE v2.6.0 Mod APK | Mirror 1 | Mirror 2 | Mirror 3

FFBE v2.5.0 Mod APK | Mirror 1 | Mirror 2 | Mirror 3

FINAL FANTASY BRAVE EXVIUS v2.4.2 Mod APK | Mirror 1 | Mirror 2 | Mirror 3
FINAL FANTASY BRAVE EXVIUS v1.0.7 Mod APK | Mirror 1 | Mirror 2

FINAL FANTASY BRAVE EXVIUS v1.0.6 Mod APK | Mirror 1 | Mirror 2
[/toggle]