Description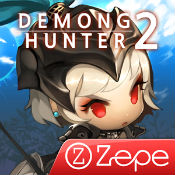 Demong Hunter 2 v1.2.9 Mod APK for Android.
"Demong Hunter", the No.1 action game in Taiwan, Thailand, Singapore and Korea returns!
Start your second adventure with more powerful action, in depth storyline, numerous stages and special characters!
[Game Introduction]
Genuine fantasy action game is here!
Experience the action packed fun with simple but sophisticated control mechanics!
Beat the Demongs and return peace with the Hunters!
Follow the enhanced scenario with plentiful single play champaigns and participate in the newly added raid system!
Join your friends and help annhilate the Demongs!
The destiny of the Hunters depends on your controls!
[Main Features]
– 12 unique Hunter characters with over 72 powerful skills
– Stage to difficult to clear? Bring a friend with the Raid system!
– Empower special abilities to Hunter's equipment with the Core system!
– Your town gets stronger along with your Hunter! Experience the town upgrade system!
– Complete your own collection with the Hall of Fame system!
– More depth and fun with new stories and events!
[Hunter Introduction]
→Lucy : A mighty warrior with no mercy towards the Demong! Wields a powerful sword to annhilate the Demongs!
→Huma : A Ninja exceeding in melee and also long-range attacks! Demongs can't keep up with his speed!
→Irene : Hunts Demongs with mighty magic! Rumor is that she uses Demongs as an experiment subjects!
→Crow: Long-ranged Demong Hunter! Does not miss a shot!
→Freyja : No one can dodge her arrows! A perfect marksmanship with a deadly aim!
→Jacob : A boxer you don't want to mess with! Demongs are always wary of his fists!
→Slamong : Don't let its cuteness fool you! Amazing strength lies underneath its cute face!
→Shaowei : A dauntless adventurer who doesn't like complication, challenges the world with her powerful spear!
→Pika : Older brother of Crow who prides of being a high born, specializes in dual wielding pistol shootouts!
→Don't miss the hidden Hunters coming soon…
Stay on your toes and never let your guard down!
What's New
– Enhanced Download Speed
– Added option to hide Softkey
Mod info:
1.) god mode
2.) massive dmg
3.) 2x dmg & 1.5x defense in PVP
4.) bypass when BGM OFF
Notes:
1.) this works everywhere, or at least as far as I test things
2.) turn off BGM if you wish to play "normal"
3.) anti-cheat removed – try to use whatever tools you wish to manipulate things. no guarantee they'll work but at least you won't get shutdown by the game LOL
Downloads [Google Play]
Demong Hunter 2 v1.2.9 Mod APK | Mirror 1 | Mirror 2 | Mirror 3