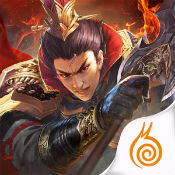 Kingdom Warriors v1.4.0 Mod APK for Android.
The kingdom is constantly rattled by new wars and unending bloodlust. Warriors have discovered a glittering new resource that, if harnessed correctly, may finally end the carnage. Collect the countless Gems scattered throughout the kingdom for might levels unlike ever before! And don't be afraid to hop on the back of the latest legendary mount: the Beast, a swift and cunning wartime companion. Divine General Lu Bu and Zuo Ci are now available for conscription as well. All these new features and more are available in the Total Domination Update!
==Features==
An Epic Story Reimagined
Descend into the chaos of the Three Kingdoms era and discover your destiny in an action-packed classic warfare adventure! Famous personas including the scheming Cao Cao, the fearsome Lv Bu, and the noble Guan Yu take to the battlefield in an epic action MMO experience!
40+ Heroes at your Command
Master the art of war and lead your forces to victory! Collect and manage your army with dozens of classical heroes. Pick your team as you enter the fray in fast-paced action combat, accompanied by your trusted AI-controlled lieutenants to sweep through the battlefield and defeat your enemy!
Manage and Grow your Forces
Grow your arsenal and outfit your allies to become an unstoppable fighting force! Collect and upgrade unique and rare items, and customize your equipment in a strategic RPG adventure! Choose from distinct units to accompany your hero into battle and become the ultimate frontline warrior-commander!
Conquer the Land with Allies
As the empire crumbles, new kingdoms take form. Join together with friends online to establish your new nation in an expansive online multiplayer experience! Team up in PvP and co-op, and join massive battles as the war to shape the future of the land rages on. Experience unprecedented mobile MMO action complete with allies, nemeses, and Guilds!
What's New
1. New feature: Gem System
2. New feature: Rune System
3. New feature: Refinement System
4. New feature: Mount Initialization
5. New mount: Legendary Beast
6. New feature: Outfit Advancement
7. New Divine General: Divine Lu Bu, Divine Zuo Ci
8. New Gems: Damage Bonus Gem, Damage Reduction Gem
Mod info:
– High damage
– x3 speed
– Increase attack ranger
– Increase attack speed
Download [Google Play]
Kingdom Warriors v1.4.0 Mod APK | Mirror 1 | Mirror 2 | Mirror 3