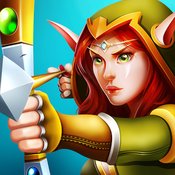 Defender Heroes v1.1 Mod APK for Android.
Dark monsters are back to attack the castle. Use the power of the bow and crossbow to defend the realm and the kingdom from attacking enemies. Equip the castle with a bow, arrows and defeat all the demon and zombies that are coming to your castle.
You are not alone in this battle. Choose your warriors and fight together with the legendary heroes. Summon the ancient gods will lead your nation and defend your precious kingdom. Upgrade your heroes and control their unique skill to defend kingdom from waves of monsters are attacking your castle. Do not forget to upgrade your archery and crossbow, which will help you shoot powerful bosses. Can you defend your castle against intruders with your archery?
Features of Heroes Defender:
– More than 10 heroes with a lot of unique skills to collect: archer, hunter, elf, panda, demon, witch…
– Upgrade 100+ level of castle, archery and crossbow with amazing power.
– Explore more than 300 epic batle. Defeat dark dragon, collect gold and diamond in gobin mode.
– A lot of creeps to destroy before they attack the castle.
– Talent system make heroes and warrior stronger by powerful magic.
– Totem: Increase shooting frequency, bonus battle gold and diamond.
– Weapon and equipment: Hammer, swords, armor, bow and arrows will increase your spell and heroes power.
Download Heroes Defender – free idle strategy game with tower defense style. You will enjoy the feeling of shooting the enemy and defend your castles, and become the legendary Defender. Love ancient military strategy games? Then download now and dive into the idle defense strategy of Heroes Defender!
Mod info:
1 Hit Kill
God Mode
No Skill CD
Download [Google Play] – Unreleased