Description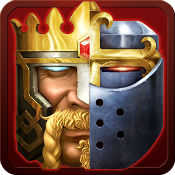 Clash of Kings v2.0.4 APK For Android
Clash of Kings is a new real time strategy game where you battle to build an empire and control 7 fantasy kingdoms! If you like PVP games or multiplayer games, you'll love this base building, fighting army game where you must conquer kingdoms to survive!
Download this fighting army game on your phone or tablet!
This multiplayer building game pits you against friends and enemies from all over the world! Build massive empires and clash with enemies in MMO RPG battle games. Explore a fantasy kingdom world as you attack enemies and build a castle defense, becoming one of the most powerful fantasy heroes in the land!
Join online empires in the PVP war for control of the 7 kingdoms in this base- building strategy game! Build armies, attack enemies, research goods and gather resources to become the most powerful player!
CLASH OF KINGS FEATURES:
Run a King's Empire in this PVP Action Adventure!
☆ Use your best real time PVP strategy to win the war!
☆ Clash of Kings is a multiplayer strategy war game about sending your fighting army against your enemies' empire.
Free to Play: Multiplayer Online PVP war
☆ Empire allies ramp up the PVP action! Join one for protection, deception, to build an empire or to grow your army.
☆ Use your fighting army to fight other players online from all around the world! In this real time strategy war game you'll rise through the ranks to have the strongest king's empire!
Combat Multiplayer: MMORPG Games With Free Multiplayer Battles
☆Free multiplayer games with MMO battles and huge fighting armies
☆MMO RPG games where you to fight in multiplayer battle games
☆ Play epic online multiplayer games for free
Build Massive Empires to Defend a Tower Rush
☆ Your fantasy kingdom needs both a strong offense and castle defense.
☆ Clash of Kings lets you build massive empires with upgradable buildings and tons of medieval tricks so you can defend your kingdom against an enemy tower rush. Who will attack first, you or your enemies?
3D MMO Action: Vivid Fantasy Empire Graphics
☆ The beautiful scenery and art in Clash of Kings makes playing in this fantasy realm an epic war adventure! Explore the world of endless empires and kingdoms!
☆Epic 3D MMORPG fighting games with amazing visuals
☆Multiplayer fighting games light up the screen massive 3D MMO armies
Multiplayer Strategy Games With Building and PVP Multiplayer Game Battles
☆ Real time strategy multiplayer games and MMO battles! Build an empire and clash with your enemies in a free fantasy kingdom!
☆ Gather resources as you build massive empires. Defense against a tower rush is as important attacking an enemy empire in these multiplayer war games.
☆ SimCity like city building of your king's empire! Defend your empire through strong battle strategy! Build a massive empire to build up your army!
☆Enjoy the battle games and PVP action on your mobile phone or tablet! Clash of Kings supports both!
As you build a massive empire and make empire allies, you'll create bitter enemies in this real time multiplayer strategy battle game. Explore the massive Clash of Kings landscape and watch your own fantasy kingdom grow.
If you enjoy battle games or PVP action, you'll love this base building game. Clash of Kings has many king empires but only one can be the true King – will it be you? Download Clash of Kings and claim the throne today!
Clash of Kings is completely free to play, however some game items can also be purchased for real money. If you do not want to use this feature, please set up password protection for purchases in the settings of your Google Play Store app.
What's New
The Christmas Event has begun
– Added Christmas Castle Customization. You can change your Castle's appearance in the Kingdom Map
– Santa Claus is coming to this snowy continent, bearing Christmas presents
Yeti Event has begun
New Dragonglass System is available
– Five new kinds of Dragonglass with better attributes are coming!
Others
– Greatly increased the Crystal rewards in the Ancient Battlefield
– Greatly increased the Crystal rewards in the Dragon Campaign
Download [Google Play]