Description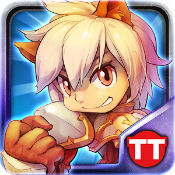 Galdor – Demon Slayer v2.7.2 Mod APK for Android.
Galdor – Demon Slayers is a 3D real-time action RPG published by TT-Play and produced by well-experienced Taiwan mobile game developer MitFun Co., Ltd.
There are two main heroes to select and play. You can play as Balder, the Knight, and Ema, the mage, to explore the world of fantastic adventure.
—–GAME FEATURES—–
– Fast-paced real-time and full angle ARPG. You can shoot and cast skills toward anywhere you want!
– Present with high-quality 3D model and splendid skill effects
– Convenient and quick battle system; able to attack monsters automatically
– Various fashion avatars to choice; decorate and characterize your own unique heroes!
– Over 100 pets to collect; pets would be the best partner to help in battle.
– Unlimited combo chain system; achieve fever status to boost attack and move speed
– CORE FACTOR: Rune system. Able to embed rune on weapons to activate different buff and effect. The more runes you collect, the more strategies and fun you will have!
Mod info:
1. God Mode.
2. Infinite Mana.
3. 1 Hit Kill.
4. Mobs Can't Use Skills.
5. Mobs Disarmed. [ Don't Attack ]
6. VIP 15 Unlocked. [ Most Features Working ]
7. Pet 1 Hit Kill.
7. Pet Increased Movement Speed.
9. Attack Speed Multiplier x10. – Player
10. Attack Speed Mutliplier x5 – Pet
11. No Skill Cooldown. [ Shows As If in CoolDown, but works ]
12. Simultaneous Skill Exploit. [ Can Spam Skills Even While You're Already Casting One ] –
[ Might Add A Item CoolDown & Exploit Later ]
NOTE – I didn't have much luck logging in with Guest Login, i don't know if it will work for you. I used facebook, Let me know if it works with Guest Login for you.
Download [Google Play]