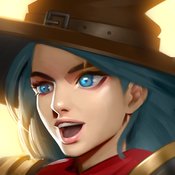 Chrono Clash v1.0.161 Mod APK for Android.
Story:
As the war over ancient Relics continues to rage, there's fame and fortune to be made; especially for a band of mercenaries like yours.
Lead your a squad on various contacts and oversee their tactics. Manage resources, unlock new job classes and uncover powerful relics to become renowned through out the land of Tevalles.
Gameplay:
Chrono Clash is a tactics RPG with a unique turn-based system that uses time as a resource. Powerful skills may deal higher damage but take longer to recover from leaving the user open to attack.
Move about the battlefield to flank enemies (or attack them from behind) and deal critical strikes. But beware, that aggressive positioning could leave you in a vulnerable position as well.
Choose from up to 24 job classes (currently 14): classics like the Knight and Mage as well as new unique ones like the Dark Templar and Artificer. Equipment and skills can also be mixed and matched creating hundreds of tactical options.
Please note that all content (including equipment and skills) is subject to change. Player data may also be modified or reset as needed. Player feedback is welcome via the official game forum: https://forum.gamenami.com/viewforum.php?f=67
Recommended Specifications:
• CPU: Exynos 8890 (e.g. Samsung Galaxy S7 or greater), Snapdragon 835 (Samsung Galaxy S8 or greater)
• 3GB Ram
Minimum Specifications:
• CPU: Exynos 7420, SNAPDRAGON 820
• 2GB Ram
• 700MB Available Storage Space
Mod info:
God Mode
Massive Damage
Recovery Skills have massive effect
Root required? No, works on both rooted and unroot Android 4.0.3+
OBB required? No, just download and install apk from below, however you need to download additional data via in-game.
Login? Yes, you can login with Gamenami account or play as guest
[ads1]
Download [Google Play] – Unreleased
[toggle title="Old Versions" state="close"]
[/toggle]