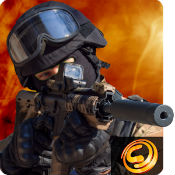 Battlefield Combat Duty Call vBFS.2.1.1 Full APK + Mod for Android.
"Best shooting mobile game of 2015" – ING
"Addictive and courageous" – TArcade
Stalingrad…
The crucial scenario of the World War II, the bloodiest battle in history. Bombing destroyed the city, two armies clashed for months and war degenerated on building-to-building fighting. A valiant commando, alone with his rifle in the frontline assault, shot and killed more than 200 people using his astonishing sniper skills. His name, Vasily Zaytsev.
Now, more than 70 years later, history repeats.
Codelabs proudly presents Battlefield Combat: Duty Call, a modern day tribute to the courage of that man and many other heroes, and the most epic first person shooter ever made for mobile devices. Join the Red Army or the Wehrmacht in a fight to control todays Stalingrad, fighting fiercely against the assault of endless waves of ruthless enemies. You can choose to be a contract killer, a deadly commando, a ruthless sniper assassin or a fierce rifleman, all trained in modern combat. Hear the call of duty and fight for the freedom of your people!
Features:
– Totally reworked playstyle and story, to better please our players
– Feel the pressure of a sniper alone facing the enemy
– Endless waves of AI controlled enemies
– Realistic shooting and reloading of the weapon
– 72 different scenarios, carefully designed and tested by our development team
– Real 3D graphics optimized for a wide variety of devices
– Easy to learn, hard to master
– Share with your friends on Facebook and get new weapons
– Absolutely FREE TO PLAY, no pay to win
The D-Day has come. Will you be up to the challenge in this 3D shooter? The overkill has come. Let the bullets fly!
DOMINATE ACTION-PACKED CAMPAIGNS
Lead your squad to victory through 60 unique missions and 8 elite challenges.
MORE TO COME! FACE PERILOUS URBAN WARFARE!
Shoot your way through 7 destructible battlefields! Take on snipers, heavy weapon specialists, tanks, helicopters, flying drones and more! Maximize your firepower with multiple, upgradable weapon classes including sniper rifles, assault rifles, shotguns and machine guns.
BATTLE FOR ONLINE SUPREMACY-ASSEMBLE YOUR ELITE SQUAD
Think you have an unstoppable squad? Incoming PvP mode! Betrayed and left for dead, you must build your team of mercenaries and seek revenge against your enemies. Recruit and train soldiers to lead the ultimate team into battle!
YOUR SQUAD. YOUR WAR.
What's New
GUI totally reworked
Added new headshot effects
Bonus xp for weapon accuracy
Premium weapons ready! Test the new bazooka, railgun and machinegun
Completely Remastered!!! Totally new game.
Impressive graphics and history mode.
Amazing FPS you must try.
New fixed levels
A modern combat release of Battlefield Stalingrad.
Don't loose this frontline commando attack.
Battlefield Combat: Duty Call ver.BFS.2.1.1 Mod info:
Downloads [Google play]
Battlefield Combat: Duty Call vBFS.2.1.1 Full APK | Mirror 1 | Mirror 2

Battlefield Combat: Duty Call vBFS.2.1.1 Mod APK | Mirror 1 | Mirror 2