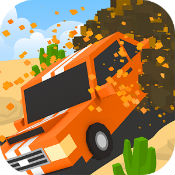 Nitro Dash v1.1 Mod APK for Android.
A very addictive retro arcade racer! Drive, jump from car to car, dash and destroy! Compete with your friends to get the ultimate high score. Race SWAT vehicles and smash into police cars through different random generated environments while hijacking other cars, busses and trucks along the way. Keep an eye on your fuel meter and pickup gas if you don't want to explode!
Features:
•  A unique combination of racing, jumping and hijacking in one action game
•  Use Nitro to escape the cops and let them crash!
•  Various unlockable characters with their own vehicles
•  Simple innovative gameplay
•  Great visuals, sounds and a unique soundtrack
•  Random generated roads and environments
•  Run over pedestrians for bonus points!
•  Hijack cars to multiply your score
•  Upgrade your cars with more armor or nitro
•  Increasing speed at higher distance
•  Share your replay on Everplay and other social channels
•  Compete against your friends and the worldwide online leaderboards
What's New
– Fixed a bug where users who weren't logged in couldn't see their scores after playing
– Smoothed the steering input, to fix twitchy behaviour when steering
– Fixed an issue where one of the tips wrongly explained to tap on a car to jump over (this is done using the jump button instead)
– Fixed a typo in one of the tips
For the next update we'll be adding Google Play Achievements. Stay tuned and have fun playing Nitro Dash!
Nitro Dash v1.1 Mod Info:
– Money
– Unlocked
– Double coin
– No Ads
Download [Google Play]