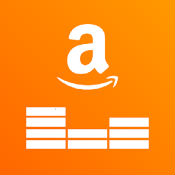 Amazon Music with Prime Music v5.1.1 APK for Android.
Expand your music collection with the Amazon Music with Prime Music app.
Prime members enjoy ad-free access to over a million songs and hundreds of hand-built Prime Playlists at no additional cost. Stream anytime, add to your collection, or download to play offline. There are no playback restrictions or ads, and it's all included with your Amazon Prime membership.
Deciding what to listen to is simple:
• Find hand-built playlists for what you're doing right now. For how you're feeling. For your favourite genre. For an artist you love. We've done the work for you so you can just tap play and enjoy.
• Discover music with song and album recommendations personalised just for you.
• Search or browse through the Prime Music catalogue.
In addition to Prime Music, the app lets you stream your music library from the cloud or play locally on your Android device:
• Play music you've bought from Amazon, including MP3s and AutoRip CDs & Vinyl. Your Amazon purchases are stored for free in the Amazon cloud.
• Import your music collection to the Amazon cloud by visiting www.amazon.co.uk/musiclibrary on your Mac or PC. Once imported, the music is available on your Android device and all other Amazon Music apps. Up to 250 songs can be imported for free, or you can upgrade your account to have storage for up to 250,000 imported songs.
• Play music already stored on your Android device – you can mix your music with Prime Music songs to make your own unique playlists.
What's New
• Now get personalized Prime Music suggestions on your all-new Recommended page
• Fixed some stuff under the hood to make the app purr more smoothly
• Happy holidays from the Amazon Music team!
Download [Google Play]
Amazon Music with Prime Music v5.1.1 APK | Mirror 1 | Mirror 2