Description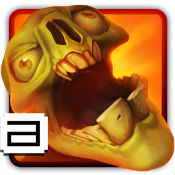 Zombie Rush v1.1.13 Mod APK for Android.
Death is surrounding you..and there is no escape from the brain eating monsters. From the downtown subway station to the beautiful beaches outside the city, zombies are everywhere. It's your time now to bite back and show those undeads some real action. Run 'n' gun through the four awesome game worlds and clean up the chaotic zombie mess. Prepare yourself for a joyride of combats between good and evil. Go out and kill the pesky mindless horde.
Your mission is to defeat the gigantic amount of zombies in every single game world and fight against vicious bosses to unlock the next level. Grab your loaded shotgun and blast zombie heads, but don't forget to collect some coins for upgrades and bonus items.
Play Zombie Rush and experience the evil thrill of hunting zombies while running for your life. Be part of the adventurous shooter game on your mobile and show everyone your zombie hunter skills on the leaderboard. Compete with your friends and share the most spectacular moments with the selfie function on Facebook.
Are you ready? Yeah! Let's hunt those crazy rotten monsters down!
FEATURES
★ Cartoony zombie action game, where you will run, slide, jump, and shoot the evil undead
★ Chase zombies through four colorful worlds and over 35 levels
★ Amazing 3D graphics and special effects for a fast-paced action game play
★ Lots of explosions! And we mean big ones!
★ Unique parkour-like stunts and movements for each character
★ Lots of different weapons, all with special features to help you survive the apocalypse
★ Different characters to choose with their own style
★ Colorful truck start boosts to fast forward your level
★ Hidden mini-game with lots of special bonuses
★ Photo feature with the option to share your greatest stunts on Facebook
★ Challenging and intense zombie boss battles for a level based game play
★ Slotmachine with Zombie gambler "Lucky Joe", play his game and win free bonus items for the game
What's New
– New challenging events with lots of rewards
– New tutorials
– Improved graphics
– New Boss introduction with close-up cutscene
Zombie Rush v1.1.13 Mod Info:
Download [Google Play]