Description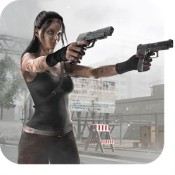 Zombie Defense: Adrenaline v2.52 Mod APK for Android.
The most dynamic, intense and bloody zombie shooter in the mobile market recent times! Defend your barricades from crowds of zombies!
2017 year. Mankind is destroyed by deadly virus from africa that turns people into terrible zombies. There was epic world war, zombie apocalypse, and now you are the only one who has survived. But for how long? Every minute you are in danger, you need to act quickly and effectively in order to survive and get out of this hellish city. Try to survive in zombie mayhem. Walking dead are very fast, angry and dangerous! If you shoot out them a legs, they will crawl. Save ammo, aim at their heads, looks around like a ninja, or you will die very quickly. You has built barricades to protect yourself but zombies will break it very quickly. Adrenaline rush during the passage is guaranteed! Left this resident of dead and trigger the new era, while is not too late.
Main Features:
– Classic 3D action control
– Realistic 3D graphics
– Dynamic effects
– Very scary and dangerous deads
– The most hardcore and intensive shooter with tower defense elements
– Crowd of the evil running zombies
– Open space 3D enviroment zombie land
– Barricades demolition
– Shooting off zombie heads, arms and legs
– Free download
What's New
If game not work after update – reinstall game completely.
Please send your bug reports. We really read it and it very important for us.
v2.52
Audio volume fixed
UI fixes
3 new campaign levels with story
More zombies and more fun in endless mode
M870 fire rate increased
Many bug fixes.
v2.3
New weapons:
New scary and bloody zombie models!
More zombies than ever!
Now you can adjust graphics settings in any time!
New tutorial – now you know how to play and shoot!
Mod Info:
Infinite Ammo
Infinite Health
Infinite Grenades
Infinite Medikits
No Re-Load
Download [Google Play]
Zombie Defense: Adrenaline v2.52 Mod APK | Mirror 1 | Mirror 2