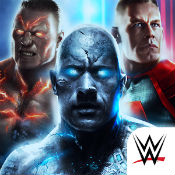 WWE Immortals v2.6 Mod APK + DATA for Android.
Take your favorite WWE Superstars out of the ring and into the supernatural world of WWE IMMORTALS. Wield DEVASTATING POWERS to demolish opponents with innovative touch-based combat from the makers of Injustice and Mortal Kombat. SUPERCHARGE YOUR ROSTER with spectacular signature moves, gear and support cards. Bring the pain during live BONE-CRUNCHING BATTLES tied to WWE events.
FIGHT
Use the touch screen mechanics of your mobile device to do epic battle with your enemies in 3-on-3 combat. Swipe and tap to perform combos and build your power to pull off special attacks and use each Superstars's customized superpower.
MASSIVE ROSTER
Collect and play as fantastical versions of your favorite WWE Superstars: Triple H, John Cena, The Undertaker, The Bella Twins, The Rock, Stone Cold, and many more. Each iconic Superstar comes with unique variations, featuring special powers and moves.
LEVEL UP
Build your move set, increase your powers, upgrade your characters, and conquer your competition. Constantly evolve your roster to fit your style of play and put your best Immortals forward as you take on a series of combatants.
ONLINE MULTIPLAYER
Take on real opponents in Online Battles and compete against players around the world in live, in-game events tied to the WWE and earn awesome rewards.
AMAZING GRAPHICS
Delivers best-in-class graphics on your phone or tablet, with custom animations for every single WWE Superstar. Engage in battle across multiple worlds, all tailored for each Superstar's alter-ego, fully rendered in 3D.
What's New
Celebrate the 25th Anniversary of Mortal Kombat with the Xavier Woods Raiden special challenge. Get ready to survive the Zombie Invasion and earn Zombie versions of AJ Styles, Brock Lesnar, Seth Rollins, and Stone Cold Steve Austin in our new Zombie mode. Earn Platinum Bars in Ladder Match for a chance at the new Platinum Character: Viper Dojo Randy Orton.

Mod info:
[V1]
1. Infinite Coins
3, Anti-Cheat
[V2]
1. Infinite Coins
2. Infinite Character Stamina
3. God Mode
4, Anti-Cheat
How to install?
Download and Install .apk
Download Obb & Patch (not the whole folder, just the .obb file)then copy to android/obb/com.wb.wwe.brawler2014
Adreno,Mali,Tegra,Powervr? Which one should I download? > Go to play store download CPU-Z for free, run a test, and you will see your CPU.
Download [Google Play]

If you have problem with the obb or the game not start, go to play store download the game, rename the obb then uninstall the game, install our mod apk then rename the obb back to original.
Adreno:
Mali:
Tegra:
PowerVr:
[toggle title="Old Versions" state="close"]
Adreno:
WWE Immortals v2.0.1 Mod APK | Mirror 1 | Mirror 2
Mali:
WWE Immortals v2.0.1 Mod APK | Mirror 1 | Mirror 2
Tegra:
WWE Immortals v2.0.1 Mod APK | Mirror 1 | Mirror 2
PowerVr:
WWE Immortals v2.0.1 Mod APK | Mirror 1 | Mirror 2
[/toggle]