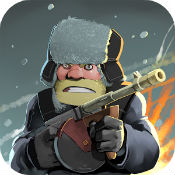 World War 2: Battle of Berlin v1.1.2 Mod APK for Android.
Prepare yourself as the Soviet army is marching towards the capital of Germany, the Battle of Berlin has begun! Red Alert is imminent, the aggressors are already here, defend against the Russian menace as vigorously as you can in this superb tower defense game situated in World War 2 era.
As a commanding officer of the German forces your task is to use blitzkrieg military and strike back to the invading Russian army. Run your military campaign for the defense of Germany, from Siberia to the deserted city of Berlin and strive for victory!
✪✪✪World War 2: Battle of Berlin ✪✪✪
Intense TD tower defense with superb military units and characters
✪ Stunning and intense battles with two opposing forces, the Soviets against the inventors of the blitzkrieg warfare, the Germans.
✪ Various and remarkable militant power ups to command from air strikes to ion cannons.
✪ Strategic Tower Defense gameplay where you have to fight vigorously in the deserted city to strike back and defeat the red alert.
✪ 18 battle military campaign to defend your German troops against the Russian menace.
✪ 6 superb upgradable TD towers to build, each with its unique features will help you win the Battle of Berlin. Wreak havoc with the flame, laser and stunning tesla towers among the Russian soldiers/
✪ The Soviets have their military strengths in their numbers so prepare for a lot of enemy troops to fight against.
✪ Apart from their stunning numbers they have remarkable options of enemy types to wage war with from mecha infantry to aviation units
✪ Upgrade your towers in the laboratory if you want to stand a chance against the militant forces of the Russian aggressors
Command the German army and strike back vigorously to the Soviet militant troops while building your tower defense for the defense of Berlin.
World War 2 Battle of Berlin v1.1.2 Mod Info:
Money Mod
Downloads:
World War 2: Battle of Berlin v1.1.2 Mod APK | Mirror 1 | Mirror 2 | Mirror 3