Description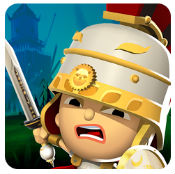 World of Warriors v1.13.1 Mod APK + DATA for Android.
World of Warriors is an epic combat and adventure strategy game! Journey across the vast Wildlands and amass an army of history's greatest warriors, from Romans and Vikings to Knights and Samurai. Battle the mighty Skull Army and take on players from around the world in the epic new ARENA mode!
PLEASE NOTE! World of Warriors is completely free to play, however some game items can also be purchased for real money.
Fight, Train and Evolve your Army in the epic World of Warriors!
"World of Warriors is a great free to play game, with tons of Warriors to find and train, and a fine combat system. It's kind of a Pokémon game, but with historical warriors. And that is cool." – IGN
Over 45 thousand five star player reviews on Google Play.
= FEATURES =
– FREE TO PLAY
– PLAY OFFLINE*
– Stunningly beautiful 3D graphics, amazing sound design and AAA production values and polish.
– Recruit an incredible team based on 100's of historically accurate real-life warriors.
– Unleash mind-blowing special attacks upon fearsome opponents.
– Hone your skills and perfect your strategy to outplay and out-think opponents in the ARENA where the toughest players from around the world battle it out.
– Battle through the vast Wildlands to defeat evil King Boneshaker and his Skull Army of minions and bosses.
– Collect materials and craft powerful Talismans to tip the tides of battle in your favor.
– Train and Evolve your warriors to reach the highest heights and unlock the true power of your army.
– Daily and Weekly events to take part in.
– Compete against others for rare and exclusive prizes.
*Visiting some sections of the game such as the Tower of Trials, Temple of Epics and the ARENA may require an Internet connection.
What's New
Fellow Warriors this is our BIGGEST update of 2016!
'Hall of the gods' – show off to the world in this totally NEW GAME MODE
'Godlike Upgrades' – A new 8star level upgrade
New costumes for all 173 warriors!
New Core Stat Caps
The ability to rebuild Warrior's Skill Trees
A VIP perk system – all players can unlock fantastic boosts and special perks
A new permanent 'Hall of fame' for winners
New Ways to win Emblems of Glory!
Warriors HO!
Mod info:
1- Weak Enemies (SFX ON)
2- Disarmed Enemies (SFX ON)
3- All Currencies Increase (MUSIC ON)
How to install:
1.Download mod apk from below
2.Install apk (DO NOT run yet)
3.Download World Of Warriors 1.13.1 Data and extract folder com.mindcandy.warriors in Android/data
4. Download World Of Warriors 1.13.1 OBB and extract folder com.mindcandy.warriors in Android/obb
5.Run game
*Go into game settings SFX/Music OFF – mod disabled,if SFX/Music ON – mod enabled
Download [Google Play]
World of Warriors v1.13.1 Mod APK

World of Warriors v1.13.1 data