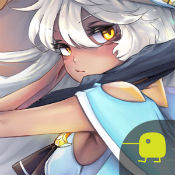 WitchSpring2 v1.35 Mod APK + DATA for Android.
This is the story of Luna, the Moonlight Witch as she sets out into the world.
Witch Spring 2 is a story-based single-play simulation role playing game
that does not require any additional purchase within the game.
Collect items and pets outside while avoiding warriors,
Craft items and magic, and combine spells at home,
Train Luna by swimming, meditation,
and push-ups so she can survive on her own.
As the story carries on, Luna will meet new friends,
and depending on her achievements towards the end of the story,
the more fulfilling the ending will be.
Please help Luna as she sets out into the world!
*You need at least 450Mb of internal storage available on your device.
*App needs reading/writing access to external storage for game installation and launch.
Mod info:
[.1.] Money-increase instead of decrease
If you got black screen after splash screen logo, then quit the game, go to settings > Apps > Find "WitchSpring2"  > Permissions > Toggle "Storage" > Done.
Download [Google Play]
WitchSpring2 v1.35 Original APK | Mirror 1 | Mirror 2 | Mirror 3

WitchSpring2 v1.35 Mod APK | Mirror 1 | Mirror 2 | Mirror 3
[toggle title="Old Versions" state="close"]
v1.31 mod info:
[.1.] License Bypass
[.2.] Luna has High Skill Damage
[.3.] Luna's Pets heal her to max HP & MP
WitchSpring2 v1.31 Mod APK | Mirror 1 | Mirror 2 | Mirror 3
[/toggle]