Description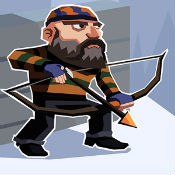 Winter Fugitives v1.4 Mod APK for Android.
WINTER FUGITIVES is a stealth game that will put all your skills to the test while you run away from an isolated prison in the snow-covered mountains!
Avoid being seen by the guards, attack them by surprise or bribe them with money you find on the way. Escape through the endless barricades and UNLOCK new playable characters with special skills!
What's New
Christmas is over…
* CHASMS AND BRIDGES
Now the path to freedom is more dangerous than ever!
* NEW GUARD
Armed and dangerous.
Download [Google Play]
Winter Fugitives v1.4 Mod APK | Mirror 1 | Mirror 2 | Mirror 3