Home /
Mods /
Wild Wolf Simulator 3D v1.1 Mod APK
Description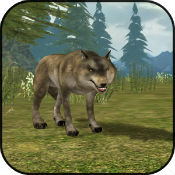 Wild Wolf Simulator 3D v1.1 Mod APK for Android.
Have you ever imagined being wild Wolf? Now you can play as real wild Wolf and become the most powerful animal in the wilderness.
Be a wild Wolf and survive in the wildness as long as you can. Start your own pride of wolves, fight for your life against fierce animals like moose, bear and fox. Evolve your Wolf to become the strongest Wolf ever.
Features:
✔ RPG-style gameplay: level up, evolve, complete quest
✔ Grow real pride of wild wolves
✔ Become the strongest wolf
✔ A lot of animals to fight: rabbit, fox, deer, bear and others
✔ Fast and action packed gameplay
✔ Beautiful dynamic runtime world
✔ Realistic wilderness
✔ Amazing 3D graphics
✔ Quest System. Complete all 30 levels!
What's New
What we have added:
– 10 more quests!
– More ways to get free points!
Wild Wolf Simulator 3D v1.1 Mod Info:
Download [Google Play]
Wild Wolf Simulator 3D v1.1 Mod APK | Mirror 1 | Mirror 2 | Mirror 3