VMOS PRO Mod APK download for free for Android.
VMOS is a virtual machine app on Android, that can run another Android OS as the guest operating system. VMOS also gives the user the option to run the guest Android as a rooted Android OS. Also the guest Android operating has the Google Play Store and other Google apps.
VMOS PRO-Virtual Android, is completely independent of the real phone system. Within Virtual Android, any risky files or applications cannot damage your real phone system, and VMOS Pro ensures that all applications in the virtual android cannot obtain your private data.
So, Install all the secret and unsafe files or applications into VMOS Pro.
VMOS Pro, the best Virtual Android, escort for your Personal Privacy and System Security!
[Permanent Free Android Virtual Phone]
VMOS Pro can install the virtual system on any of your Android devices, so Applications or Games that cannot be run successfully because of the high Android version can run on the virtual system without trouble.
[Any Application can be operated through the Floating Window]
Whether Games or Applications, you can use VMOS Pro to perform windowed operations, so that your life and entertainment will never stop.
[Universal Privacy Protection Box]
No application in the virtual system can access the private information of the real phone system. Risky software is installed in the virtual machine, and it cannot obtain your location, device information, mobile phone files, etc.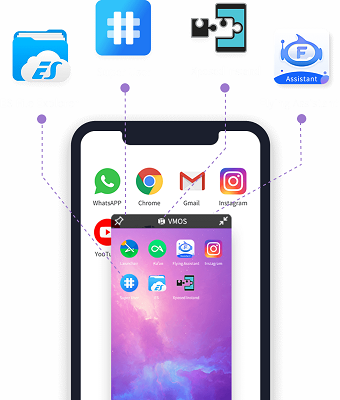 Mod info:
– Premium until 2090
– Unlocked at premium up to max 100 Roms
– Can Backup/restore rom from Rom market
– No Login
– Free download geek vip rom & rom from market
– Added CPU Info 32&64
Don't change the signature!
use my original signature (signature V2)
so that on android 32bit is not stuck.