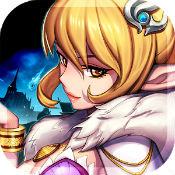 Venator v1.0.4 Mod APK for Android.
◆◆ start dash Campaign ◆◆
Now get started and can get a luxury item of equivalent total of $ 69.99!
This large Do not miss the chance !!
*** Dragon's Labyrinth – Venator ***
Sword is the only one you can trust in this world!
True RPG that will waken your urge to dominate the world! Venator: Dragon's Labyrinth
Build your very own territory and collect diverse Heroes!
When all preparations are complete, join other Heroes
in the great battles and bring fame to your title!
1. The one who rules the Tower controls the Realm! Extreme Battle!
– Face the great forces of evil that guard the 4 Towers and challenge to reach the top!
– Challenge the extreme battle and be rewarded with the rarest and toughest set item!
2. Endless series of breath taking battles among Heroes! 3 Vs. 3 & 9 Vs. 9 Hero Battle!
– Put your honor on the line and fight to be the last survival!
– Feel the awesome power of an army of Heroes battling in the palm of your hand.
3. Spectacular siege warfare through simple one-touch control! Siege Battle!
– Attack other player's territory with through simple control!
– Invade opponent's territory and loot his resources!
4. Build your very own kingdom.
– Gather resources. Build and upgrade various buildings and spread the magnificence of your Kingdom throughout the Realm!
– Build defense towers and protect your territory from invaders!
5. Grow diverse Heroes through collecting, upgrading, and evolving!
– Collect and grow over 300 different Heroes.
– Build a party of great warriors of 5 different Classes: Knight, Barbarian, Healer, Wizard, Archer
– Attack other player's territory through simple control!
– Invade opponent's territory and loot his resources!
* Anyone can play this game for free. However, there are some items in the game that require in-app purchase.
* Purchase refund may be restricted on some items and if any of purchased item is used.
* Please set your Google account to prevent unintended purchase if you do not wish to use the purchase feature.
Venator supports tablet devices. Enjoy the game on the big screen!
Mod info:
– God Mod
– 1hit kill
notes:
For Equipping /unequipped Heroes, used bypass Mod Apk, ill try to fix it.
Download [Google Play]
Venator v1.0.4 Mod APK | Mirror 1 | Mirror 2 | Mirror 3 | Mirror 4

Venator v1.0.4 Bypass APK | Mirror 1 | Mirror 2 | Mirror 3 | Mirror 4