Description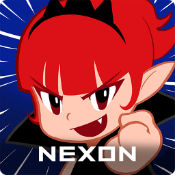 Vampire Princess Marica v2.1.6.1 APK For Android.
Who comes in front of Marica shall be down to their knees!
Soon after the Dark Lord's death, Vampire Empire fell into disorder.
Marica, the youngest princess of the Dark Lord, has the special power inherited from her father to extract Soulstone from Monsters and make her own Minions.
Marica takes her journey with Alfie, Lord Chamberlain, to become new Dark Lord.
Awaken the power within Princess Marica and take a journey to fight Monsters and gathering her Minions to become a new Dark Lord!
Features
► Sensitive shooting game with simple, One-handed control
Avoid enemy's attack and shoot its weak points! You can explore the game with touching and moving on the screen.
► Absorb Soulstone to make Marica's own Minions
Create Marica's Minions by extracting Soulstone from the monsters encountered in dungeons.
► Compete against more powerful enemies by evolving Minions
Level up and evolve Marica's Minions to make them unbeatable before encountering new strong enemies!
► Special shooting skills
Minions have their own special shooting skills. Customize Marica's Minions with various special shooting skills to explore new dungeons
► Main stage and Missions
Unique missions await you in every main stage. Take advantage of clearing many dungeons and achieving Missions at the same time.
► Summon new Minions
Eager to collect more Minions? Summon new Minions using Gems and coins!
Download