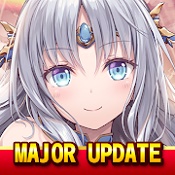 Valkyrie Crusade v8.0.0 Mod apk for Android.
"The maidens have come. To the world up in the heavens!"
Valkyrie Crusade combines epic RPG-style card battles featuring beautiful maidens with a fantastic town building simulator. Enjoy both types of games at the same time!
■Beautiful Battle Maiden Cards!
Summon a variety of beautiful maidens!
Create your own units, fuse cards with evolution and amalgamation, and charge into battle.
Become friendly with your maidens and strengthen your bonds……
■Create a Beautiful "Kingdom"!
Build structures with various effects, and design your own unique town.
Even players who are not adept at RPGs can enjoy building and decorating their town.
■Magnificent Battles!
Organize your units and march into each area to restore peace to the Celestial Realm in the "Campaign".
Battle other players in a "Duel" to get "Sacred Relics".
Work together with comrades to defeat powerful enemies known as "Archwitches".
A variety of card battles await you!
What's New
New and revised content in Version 8.0.0
・New rarity VR addition
・Battle system changes
– System Activation System Changes
– Removal of the damage limit during awoken burst
– The upper and lower limits establishment of the status up and down ratio
– [Turn Skip] effect will be divided into a new [status effect] – Archwitch's (NPC enemy) patterned movement addition
・Battle screen features improvements
– Card effects display
– Autobattle feature's [automatic] improvement
・Minor bug fixes
Mod info:
v1:
– Infinite Skill Proc/Instant Awaken Burst/100% Trigger Chance
v2:
-100% Trigger Chance Only
v3:
-100% Trigger Chance (Limited)/Endless Awaken Burst
Root required? No, works on both rooted and unroot Android 2.3+
OBB required? No, just download and install apk.
Download [Google Play]
Only the second version (100% Trigger Chance Only) works in Demon Realm Voyage.
It seems they are banning mods on the new update.
!!USE THIS AT YOUR OWN RISK!!!
From comment section: (credit to definal)
For anyone using the mod, Mod 1 would not work as the skills triggering system was already changed.
Mod 2 and Mod 3 would still works, but the 100% chance is only applicable for the second skills.
The update of the Game removes the number of use limit for BOTH first and second skills, so Mod 2 and Mod 3 can be used to trigger the second skills infinitely. Make use of this to play.
v1 doesn't work on v8.x.x any more

Valkyrie Crusade v8.0.0 Mod v2 APK
Old Versions
Old Versions