Description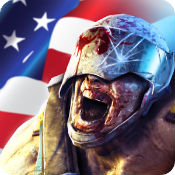 UNKILLED v0.7.1 Mega Mod APK+Data for Android.
We are back again: UNKILLED is the best-looking zombie shooter ever made for mobile devices.
NYC is the center of the world's latest zombie outbreak. You are Joe, member of the anti-zombie unit WOLFPACK, a private military organization designed to find, track, and eliminate the zombie menace before it becomes global.
TAG 'EM AND BAG 'EM!
Three hundred missions–more bang for your buck!
Unique enemies and bosses: SHERIFF, DODGER, MINESWEEPER, BUTCHER, and more!
More than fifty–count 'em!–weapons, including LSAT, SAIGA-12K shotgun, and M24 sniper rifle!
Friendly units to help you survive!
SMOOTH 1ST-PERSON-SHOOTER ACTION!
Unique MFG control scheme for mobile devices, tried-and-tested by millions of players
Intuitive gameplay: our autofire shooting system let's you concentrate on the action
Support for multiple gamepads
Think you got a sharp eye? Our new Adrenaline feature puts it to the test!
RIDICULOUSLY, ABSURDLY AWESOME GRAPHICS!
High resolution soft shadows
GPU-simulated particle effects, numbering in the tens of thousands
Textured, reflective surfaces
SpeedTree-powered vegetation rendering
High polygon character models
Post processing effects, for a cinematic "feel"
What's New
* New PvP Power-ups
* Double daily rewards in PvP
* Multiple crashes and bugs fixed
NEW YORK WARFARE
*Earn rewards in WARFARE objectives
*Top the leaderboards to win VIP prizes
IMPROVED PVP
*Ranked PvP
*Guaranteed rewards
*Rebalanced weapons
*New map: BRIDGE
*Hero Skins
*New anti-cheat technology
GAMEPLAY
*Earn cash by finding player logs
*Improved Skirmish Ops and Story environments
Epic minigun
School uniform skin for Sam
Accessories and hairstyles for zombies
Blueprints in weapons chest
Mega Mod Info:
1. 1 Hit Kill
2. Long Distance Shooting
3. No Reload
4. Unlimited Ammo
5. Ammo Won't Decrease
6. Unlimited Stamina
7. Stamina Refills in 1 Second
8. Massive Xp
9. No Power Required For Weapon
How to Install?
Download and apk file
Place Data in Sdcard0/Android/OBB
Done and Enjoy the Game!
Downloads [Google play]
Adreno:
UNKILLED v0.7.1 Mega Mod APK | Mirror 1 | Mirror 2 | Mirror 3
Mali:
UNKILLED v0.7.1 Mega Mod APK | Mirror 1 | Mirror 2 | Mirror 3
PowerVR:
UNKILLED v0.7.1 Mega Mod APK | Mirror 1 | Mirror 2 | Mirror 3
Tegra:
UNKILLED v0.7.1 Mega Mod APK | Mirror 1 | Mirror 2 | Mirror 3
[toggle title="Old Versions" state="close"]
Adreno:
UNKILLED v0.6.0 Mod APK | Mirror 1 | Mirror 2 | Mirror 3
Mali:
UNKILLED v0.6.0 Mod APK | Mirror 1 | Mirror 2 | Mirror 3
PowerVR:
UNKILLED v0.6.0 Mod APK | Mirror 1 | Mirror 2 | Mirror 3
Tegra:
UNKILLED v0.6.0 Mod APK | Mirror 1 | Mirror 2 | Mirror 3
v0.5.5 mod info:
1.Medikit Enabled
2.Head Multipler Booster
3.Sprint Aim
4.Adrenaline Enabled
5.Auto Heal
6.FPS Enabled HUD
7.Tegra4 Enabled
8.AndroidTV Enabled
9.Adreno Enabled
10.Enemy Speed Mod
11.Damage Mod
12.Unlimited Ammo
13.EnemyHpBoost Mod
15.EnemyAttackBoost Mod
16.EnemySpeedBoost Mod
17.SpecialEnemyHpBoost Mod
18.SpecialEnemyAttackBoost Mod
19.SpecialEnemySpeedBoost Mod
20.Dll Prodection Bypass
Should work for all GPU
UNKILLED v0.5.5 Mega Mod APK | Mirror 1 | Mirror 2 | Mirror 3
[/toggle]