Description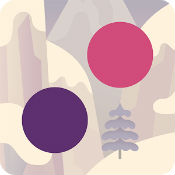 Two Dots v2.6.5 Mod APK for Android.
Join two brave dots as they traverse the arctic tundra, navigate fiery jungles, and plunge the ocean depths in the #1 hit game in over 70 countries.
"Dots, a Highly Addictive Game, Now Has a Successor" – The New York Times
"Two Dots, The Sequel To Betaworks' Dots, Is A Beautiful Monster" – TechCrunch
• FREE to play for life
• CONNECT one dot to another, sink anchors, make a line, create bombs, fight fire, and much more in this fun free puzzle game
• ADVENTURE through 560 fun and addicting levels
• ADORABLE fun, and thoughtful game design in this beautiful game about connecting
• ENJOY beautiful minimalistic design with relaxing game music and fun sound fx
• PLAY at your own pace to figure out the perfect move without having to worry about the old time clock
• CHALLENGE your friends to a TwoDots match on Facebook, beat their scores, and earn medals
• MAKE a line or a square, not a circle, to connect every dot of a single color
What's New:
New: Roam across the luminous North Sky Country 2!
New: 25 additional levels featuring the radiant Gems mechanic!
New: Treasure Hunt Leaderboard Share! Show off your Treasure Hunt skills to all your friends via SMS, Facebook, Twitter, and more!
Two Dots v2.6.5 Mod v1 Info:
Unlimited Moves
Unlimited Lives
TwoDots v2.6.5 Mod v2 Info:
Download [Google Play]
Two Dots v2.6.5 Mod APK | Mirror 1 | Mirror 2

Two Dots v2.5.0 Mod v1 APK | Mirror 1 | Mirror 2