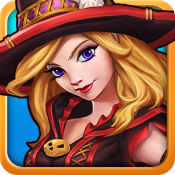 Trivia Saga v1.09 Mod APK for Android.
Game Synopsis
**Story**
Trivia Kingdom, a mysterious world of wonder and magic.
Demons terrorize the countryside, and it's up to you, along with your talking owl navigator, to find the cause and put a stop to it!
Fight against the demons and explore strange new lands by solving the mysteries written within mystic grimoires!
**Game Features**
◆Answer Trivia Questions to Progress through Quests!
Choose from genres like Sports, Entertainment, and World, then correctly answer trivia questions to blast away any who try to stop you with powerful magic attacks!
◆Fantasy Becomes Reality with Eye-Popping Graphics!
Dense Forests, perilous valleys, winding caves, scorching volcanoes, and more come to life with the amazing 2D/3D fusion graphics engine! You've gotta see it in motion to believe it! Fluid character animations and heart-pounding battle sequences will blow your mind and then absorb you into the adventure!
◆Recruit a Huge Cast of Characters!
Recruit new allies, choose who you want to take on your adventures, and make them stronger and stronger! Make the best party you can by creating the right combinations of magic skills and passive abilities!
◆Challenge Players Around the Globe to Trivia Battles!
Prove yourself as the trivia master by answering trivia questions quickly in the arena! Show that you're more than just a wannabe by ranking highly and get great rewards!
◆Adventure with Your Friends!
Take your friends' characters with you on story quests! Make more friends and have even more characters to choose from!
What's New
-Arena overhaul updates
-Preparation for new event
Download [Google Play]
Trivia Saga v1.09 Mod APK | Mirror 1 | Mirror 2

Trivia Saga v1.08 Mod APK | Mirror 1 | Mirror 2