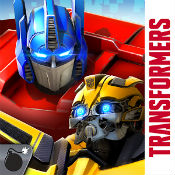 TRANSFORMERS: Forged to Fight v7.0.1 Mod APK for Android.
Calling all Autobots, Decepticons, Predacons and Maximals!
Join Optimus Prime, Megatron, Bumblebee, Waspinator, Rhinox, Grimlock, Soundwave and many more of your favorite bots in the battle for supremacy where Transformers universes collide. This exciting action-fighting RPG brings the heroic storytelling and spectacular action from over 30 years of Transformers history to your mobile device!
Features:
• Collect iconic bots from the entire Transformers universe
• Battle other players with devastating special attacks, ranged blasting, destructible terrain and huge 360° arenas
• Team up with your friends, forge alliances and battle in global events
• Set a gauntlet of bots and defenses to protect your base, get revenge on those that attack and raid enemy bases
• Deploy away teams to score epic loot
Roll Out!
WiFi or cellular connection is required to play.
Optional in-app purchases available.
What's New
•12 new Bots have been added to the 5-Star Bot Crystal
•5-Star Awakening Programs and Signature Upgrades have been added
•Featured Bot Chip rewards have been increased in Arenas and Raids
•New items have been added to the rotational Raid Store
•3-Day and 7-Day Alliance Event rewards have been updated
•T4 Basic Spark Essence is now obtainable in a new Arena
•2 new Bots will be joining the Fight soon! Add them to your roster in the coming weeks!
•Bug fixes, optimizations, and localization fixes
Mod info:
-1 Hit Kill
-Auto Fight Unlocked
*Don't use mod in Raid or PVP!
Root required? No, works on both root and unroot Android 4.0.3 and up.
OBB need? No, just download the apk and install.
Login? Yes, You can login with Google (Root required) and LABAM account, you can also play as guest.
How to use?
1.Download and install Original APK to pass tutorial first
2.Download and install Mod APK over Original APK (no needed to uninstall original first, mod apk will be overwrite the original)
3. Enjoy the mod.
[ads1]
Download [Google play]
[toggle title="Old Versions" state="close"]
TRANSFORMERS: Forged to Fight v6.3.1 Original APK
TRANSFORMERS: Forged to Fight v6.3.0 Original APK
TRANSFORMERS: Forged to Fight v6.2.0 Original APK
TRANSFORMERS: Forged to Fight v6.1.0 Original APK
TRANSFORMERS: Forged to Fight v6.0.0 Original APK
TRANSFORMERS: Forged to Fight v5.2.0 Original APK
TRANSFORMERS: Forged to Fight v5.1.0 Original APK
TRANSFORMERS: Forged to Fight v5.0.0 Original APK
TRANSFORMERS: Forged to Fight v4.1.1 Original APK
TRANSFORMERS: Forged to Fight v4.1.0 Original APK
TRANSFORMERS: Forged to Fight v4.0.1 Original APK
TRANSFORMERS: Forged to Fight v4.0.0 Original APK
[/toggle]