Description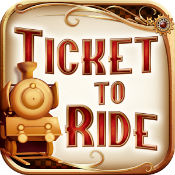 Ticket to Ride v2.0.12-3642-e6699da6 Mod APK+DATA for Android.
BEST-SELLING BOARD GAME NOW AVAILABLE WITH A NEW CROSS-PLATFORM MULTIPLAYER MODE AND BRAND NEW VERTICAL MAP: INDIA
The official adaptation of Days of Wonder's best-selling train board game, Ticket to Ride takes less than one minute to learn but a lifetime to master. Over 48 million games played online and a new game starting every 4 seconds on average! In addition to the exciting cross-platform asynchronous multiplayer mode, players will enjoy a new intuitive user interface, new social media capabilities to share exciting moments, and the brand new India map, the first vertical map to be available on Ticket to Ride.
**Pocket Gamer: 9/10 with Gold Award – "A fantastic adaptation of an excellent board game, and a must-buy for strategy fans".
Main features
• Alan R. Moon's official Ticket to Ride maps with original artwork in full high resolution
• Online Play (WiFi, 3G, 4G) against other Android, iPhone, iPad, Linux, Mac and PC gamers
• An unparalleled online player community with tens of thousands of live opponents
• Solo play against up to 4 AI players
• Pass-and-Play with up to 4 live opponents
• Additional maps of Europe, Switzerland, USA 1910, Legendary Asia and India available as in-app purchases
• Detailed, interactive turn-by-turn, in-game tutorial
• Contextual in-game Conductor's Notes to help you master all the maps
• True cross-platform: players can challenge on other platforms including Steam PC and Mac, Linux, Android, iPhone, and iPad
• Online and offline Hall of Fame
What's New
Build #3642 – happy Valentine's day
– several crash and stability fixes.
– several fixes on the Switzerland map.
– improved Game Clock timer: indicator goes red when about to time-out, improved slider.
– various improved in-game animations, some similar to the old version of Ticket to Ride.
– invitations waiting for player's approval are now listed as My turn in the resumable games.
– single session games can now be resumed.
– local games are now destroyed when leaving the Play screen.
– various in-game user-interface improvements
Download [Google Play] – Mod: Unlocked

Ticket to Ride v2.0.12-3642-e6699da6 Mod APK | Mirror 1 | Mirror 2
Ticket to Ride v2.0.12-3642-e6699da6 DATA | Mirror 1 | Mirror 2
Ticket to Ride v2.0.11-3553-5d0ba445 Cracked APK+DATA | Mirror 1 | Mirror 2