Description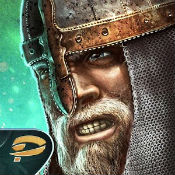 Throne: Kingdom at War v1.1.3.54 APK for free.
Pre-register for Throne now to receive a FREE Starter pack with lots of awesome content at launch! Exclusively on Google Play.
We welcome you to the legendary world of wise Kings, great Lords and valiant Heroes. Walk the exciting path of a city builder and warlord! Assemble an army of faithful warriors in gleaming armor. Create a powerful Order and demonstrate your might to players from all over the world. Glorious victories in bloody battles for supremacy in the Kingdom and the brutal struggle for the ancient Throne are just a small part of all the adventures that await you in the lands of fearless rulers.
From the moment you begin the game, the atmosphere of a medieval town in an expansive Kingdom, courageous marches, battles and ancient riches will take you on an unforgettable journey. My Lord, your vassals are waiting for your orders!
Throne: Kingdom at War is free to play. You can purchase in-game currency in exchange for real money. It gives you the ability to buy various boosts and items that will make your gaming experience more dynamic and exciting. If you want to switch off this option, you can set a password in the Google Play Store menu to prevent any unwanted purchases. Note: you must be at least 13 years of age to download and play Throne: Kingdom at War.
Game features:
– Access to a completely free mode
– High-grade graphics and sound
– Localization into multiple languages
– You can create your own Order or join an existing one
– Dynamic real-time battles with players from all over the world
– Several troop classes to choose from: knights, spearmen, ranged, cavalry, siege, scouts
– Armor, weapons and other equipment crafting for your Hero
– Numerous quests and errands with valuable rewards
Note: Throne: Kingdom at War is a mobile game that is independent of any social network or web server. We are constantly improving the app, making it better and more entertaining. You also can help us sending your feedback and suggestions.
What's New
Valiant Lords, the gates to the world of Throne: Kingdom at War are now open to you!
Make your way from being the ruler of a picturesque Town to the conqueror of Kingdoms, unravel ancient mysteries and become the sole invincible master of these lands! Hundreds of furious enemies await you on your path to the pinnacle of power, and the flames of burning enemy Towns will light your way to victory.
Meet your fate and decide who is worthy of the crown!
Download [Google Play]
Throne: Kingdom at War v1.1.3.54 APK | Mirror 1 | Mirror 2 | Mirror 3