Description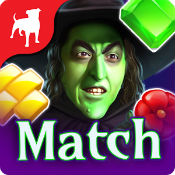 The Wizard of Oz Magic Match v1.0.1251 Mod APK for Android.
Journey down THE YELLOW BRICK ROAD™ with DOROTHY™, the SCARECROW™, the TIN MAN™ and the COWARDLY LION™ as you make your way to the EMERALD CITY™! You'll go somewhere over the rainbow and experience scenes and sounds from the original THE WIZARD OF OZ™ movie. Match your way to meet the wonderful Wizard of Oz in this magical puzzle adventure!
* LIONS AND TIGERS AND PUZZLES, OH MY! – The classic matching puzzle game is new and unique with exciting gameplay based on the beloved The Wizard of Oz movie and characters! Try your luck with GLINDA THE GOOD WITCH™ and her Magic Wheel or use Dorothy's RUBY SLIPPERS™ shoes, Munchkin Lollipops, and the Tin Man's Axe to complete puzzles and make your way towards the Land of Oz
* EXPERIENCE THE WIZARD OF OZ – Unlock new chapters and fun, imaginative puzzles – each based on an adventure from the most popular movie of all time! Visit Munchkinland, the Haunted Forest, and more enchanting locations on your way from Kansas to the Emerald City. With each new region you unlock, you'll encounter the favorite characters you remember and more of the beloved story will unfold!
* ICONIC CHARACTERS! – The magic comes alive as you walk with Toto down the Yellow Brick Road, encounter the WICKED WITCH OF THE WEST™, experience the Magic Wheel of GLINDA THE GOOD WITCH™ , visit with the Munchkins, and are immersed in the Land of Oz!
* TRAVEL WITH YOUR FRIENDS! – Relive the magic together as you journey with your friends down the Yellow Brick Road, helping each other and sending gifts along the way!
Mod info:
1. Infinite Lives
2. Infinite Boosters
Download [Google Play]
The Wizard of Oz Magic Match v1.0.1251 Mod APK | Mirror 1 | Mirror 2