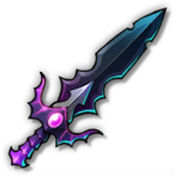 The Weapon King v22 Mod APK for Android.
Indie games are loved.
1,000,000 people enjoyed the game!
Download it now!
Warrior! Please be awake!
The world is in danger! Now Hurry!!
Evil spirits from the dark dimention are giving everyone a trouble!
Take this sword at once and forge the greatest sword!
This sword will be your greatest company in destroying all the evil spirits.
Make sure you collect all the legendary rings and necklaces with great hidden powers which could be earned during the adventure!
And take this jewlry box filled with mysterious lights!
Warrior.. Hurry, before it's too late..Save the world!
※ Please be warned. All the saved data will be deleted if you remove the game
※ Google play login is compulsory
==================================================
★The only way to save on the server.
When you purchase an item from the store to save the moment.
It can be restored to the last saved data.
Try clicking the text next to Purchase Restore '.
The Cloud Data Load pop-up appears.
What's New
+ Language Update (16.8.21)
– Turkish by Oğuzhan Aydın
– Chinese by 任陈龙
– Polish by Piotr Kuligowski
– Arabic by Imad Gdhs
– Portuguese by Rubens Vasque
– Croatian by Robert Pomper
– italian by Pasqualino Carusone
– French by The Game Box
– Russian by Игорь Лисицин
– German by Max Thun)
– Spanish by Mauricio R.
– Japanese, Thai translation (waiting for you)
+ Gem x100 Item 40% OFF Event! (only 7 days)
Mod info:
Free Upgrades (Add instead of Subtracting)
Free Shopping
Unlimited Diamonds (Increase)
Cheat Protection Disabled
All Advertisements Removed
Download [Google Play]
The Weapon King v22 Mod APK | Mirror 1 | Mirror 2 | Mirror 3

The Weapon King v1.68 Mod APK | Mirror 1 | Mirror 2 | Mirror 3