Description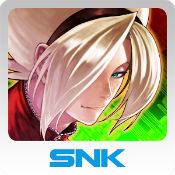 THE KING OF FIGHTERS-A 2012 v1.0.4 Mod APK + DATA for Android.
*[Important] Warning regarding Android 5.0
This app may not run correctly under Android 5.0
We apologize for the inconvenience that may cause to you and thank you for your understanding.
34 playable characters!! 6 different game modes available in SINGLE MODE to enjoy the game for hours and hours even alone! Simple Commands allow to easily perform any type of combo!
The 2D versus fighting game "KOF-Android" returns on Android with tons of new content like never before!!
■NEW CHARACTERS, NEW TEAMS
In addition to the characters from he previous installment, the 4 new "ART OF FIGHTING", "PSYCHO SOLDIER", "KIM", and "IKARI" teams , "NESTS-Style KYO" and "IORI with the Power of Flames"(14 new characters), join the cast of "KOF-Android"!! You can now create your favorite team from this formidable roster of 34 fighters!
■A SINGLE-PLAYER MODE RICH IN CONTENT
6 game modes are available for thousands of hours of enjoyment even when playing alone: "SINGLE BATTLE" for 1-on-1 fights, "TEAM BATTLE" for classic KOF 3-on-3 gameplay, "ENDLESS" Mode to defeat as many opponents as possible with one character, "CHALLENGE" Mode to clear trials by fulfilling requirements, the newly introduced "TIME ATTACK" Mode to compete for the best clear times by winning 10 matches, and "TRAINING" Mode to get accustomed to the Virtual Pad-based controls and practice your combos.
■SIMPLE COMMANDS
The Virtual Pad recreates perfectly reproduces KOF's smooth controls. Even novice players in fighting games will be able to release various Special Moves, Super Special Moves, NEOMAX Super Special Moves, and other complex moves in one touch. With the Simple Commands, you can easily perform many of the game's fancy combos!!
*Please refer to "TUTORIAL" Mode for an explanation of these commands.
■ADDITION OF TONS OF NEW TRADING CARDS, ILLUSTRATIONS, AND OTHER EXTRA CONTENT
Plenty of new Trading Cards (that can be acquired by using points earned during gameplay) along with new Illustrations (which can be viewed at any time by fulfilling certain conditions) have been added to this latest release! Moreover, "KOF-Android 2012" includes rough sketches and illustrations that can only be seen here, which fans cannot afford to miss!
■Recommended Devices
Samsung Galaxy S3
Samsung Galaxy S2
Nexus 7
Xperia acro S
HTC J one
XPERIA so-03D
*You may download this game on other devices, however bugs and/or difficulties running the app may occur.
©SNK PLAYMORE CORPORATION ALL RIGHTS RESERVED.
Mod info:
Download [Google Play]
THE KING OF FIGHTERS-A 2012 v1.0.4 Mod APK | Mirror 1 | Mirror 2

THE KING OF FIGHTERS-A 2012 v1.0.4 OBB | Mirror 1 | Mirror 2