Home /
Mods /
The Exorcists: 3D Action RPG v1.3.1 Mod APK+DATA
Description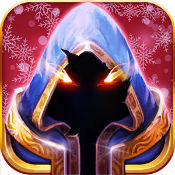 The Exorcists v1.3.1 Mod APK+DATA for Android.
The Exorcists is every RPG fan's dream come true, a combination of pure role-playing action with Gothic-like 3D characters and environments.
In the center of the Universe darkness rises over the Asgard Kingdom as EVIL forces are close to winning a centuries' old war between Gods and Demons. Helped by the betrayal of fallen angels, the Devil rose from the underworld. Ruling an army of creatures possessed by demons he conquers the kingdom little by little. Using their last forces Gods created The Exorcists, powerful warriors immune to demonic possession & chaotic mind control. Heroic acts of The Exorcists are the Universe's only hope against an eternity of darkness. Will you be the HERO that defeats evil?
★★★★★ "From skin-crawling animations to jaw-dropping combat moves, The Exorcists tops my list of RPG action games." – AndroidB.com
Pick your hero from dozens of Exorcists available & embark on the 3D Action Role-Playing. You start in Asgard's main city where you interact with other characters and as the story progress you accept quests or side missions. The more dangerous the mission, the more loot & experience you gain. Train yourself and level up to learn new fighting skills, obtain powerful gear or access the fighting arena.
With gorgeous 3D graphics, stunning effects and an epic soundtrack.
Here are the features of this Epic Action RPG:
☑️ Indonesian Language and Sound Effect
☑️ Stunning 3D Graphics From amazingly detailed locations to fear-instilling creatures & adrenaline-filled fighting animations, The Exorcists sets a new standard in mobile game graphics. No worries though, you can adjust the level of detail if your device is slow.
☑️ Pure RPG Gameplay Truly role-playing action game where you assemble a team starting with one of the dozen available heroes and fight for XP, gear & gold. Level up to unlock new fighting skills and manually combat enemies or use the auto-fight option to engage automatically.
☑️ Dozens of Heroes With 30 characters (and counting), The Exorcists can fulfill any RPG role desire you could have. You can be a creepy Corpse King, Vengeful Soulbreaker, thirsty Vampire or even a Psychotic Clumsy Bear as long as you know what you want, PHYSICAL POWER, AGILITY or MAGIC!
☑️ Upgrades & Level Ups Gain fighting experience to level up & develop new skills. Upgrade your gear and equip yourself with up to 9 items. With 270+ weapons, 380+ armors and powerful item sets, there's plenty to choose from!
☑️ Hundreds of Locations You fight your way through the heart of evil in close to 900 map locations and dungeons plus a set of Deadly Raids, from the Scary Ghost Cemetery to the Undead Swamp. It all equals to hundreds of hours of fighting joy!
☑️ Multi-Player Mode You can play & interact with other connected users in Multi-Player mode. Participate in Guild Wars, defeat Powerful Bosses in Group Raids, PvP or scour dark dungeons together.
☑️ Ranking, Bonuses & Achievements Play the RPG game often and you'll receive daily bonuses, reward cards or complete achievements to get more loot. The more powerful you get, the more you'll climb up in the global rankings while competing against other players.
Minimum Requirement :
☑️300MB Free Space
☑️Android OS, v4.4.4 (KitKat)
☑️CPU Dual-Core 1.5 Ghz or Higher,
☑️RAM 1 Gb
Recommended Requirement :
☑️300MB Free Space
☑️Android OS, v4.4.4 (KitKat)
☑️Quad-core 2.2 GHz or Higher
☑️RAM 2 Gb

The Exorcists v1.3.1 Mod Info:
How to install?
Download & install .apk
Download data file, unzip. Place "com.mt.tc.exorcists" into sdcard/Android/OBB
Done! Enjoy!
Download [Google Play]
The Exorcists v1.3.1 Mod APK | Mirror 1 | Mirror 2 | Mirror 3

The Exorcists v1.3.1 Mod DATA | Mirror 1 | Mirror 2 | Mirror 3