Description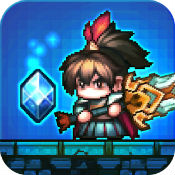 The East New World v2.3 Mod APK fro Android.
The East New World is a retro-inspired action platformer game with the high quality pixel art style. Any screenshot in the game is a wonderful picture.
Long long ago, there was a country "The Warriors' Kingdom", people there were strong and brave. After the King selling the soul of the country to The Evil Space, everyone turns into a killer who takes the assassination mission for it. Buta's wife Icy refused the mission,as a price, she died.Poor Buta begins his revenge – fight for love!
Controller Input:
A – Attack or Enter
B – Jump
X – Slide down
Right Trigger – Open or Close Mini-map
DPad – Direction control
Features:
– 81 the most elaborate levels
– 9 high intelligence and very challenging bosses
– 20 weapons with unique special attacks and skills
– 20+ costumes with specific abilities
– 30+ relics that grant you abilities
– 4 secret very hard levels with high yield
– Boss Rush and Time Rush for high-end players to challenge
– Decorate your home with souvenirs
– Customizable touch controls
– Game Center leaderboards and achievements
What's New
– Controller supported
– Countless minor bugfixes
Download [Google Play]