Description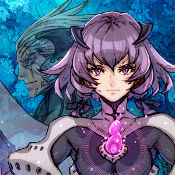 Terra Battle v4.6.0 Mod APK for Android.
An encounter that will tear away the veil shrouding the world's secrets and set the gears of fate in motion…
*Maneuver your characters freely to outflank your enemies.
Move units freely around a grid-based map to flank the enemy, striking from both sides in a pincer attack.
*Eradicate multiple foes in one fell swoop with chain attacks.
Characters can be positioned to execute chain attacks with allies. Take advantage of bonus items on the map as well to obliterate your foes!
*Customize characters strategically via jobs and skills.
Characters can undergo three types of job changes. Acquire new skills and combine them to create characters that best fit your play style.
*Experience an expansive game world with hundreds of battle maps and hundreds of friends and foes.
A myriad of richly distinctive and diverse foes will confront you on a variety of battle maps. Prevail against them to gradually unravel the mysteries of this strange new world.
What's New
– Adjusted the 【Monsters Strike Back】 difficulty
– Changed the "Dracorin" from Class D to Class B.
– Now possible to Outflank the Lucky Orbling from four sides.
– Changed the timing when Metal Zone 6 and Zone 7 are unlocked; as well as the location of Zone 7 on the World Map.
– Now displaying TIPS on the main screen
– Removed [Multiplayer Servers] from [Options].
– Fixed minor bugs.
Mod Info:
Mod 1:
– 1 HP Enemy
– High HP Player
– 1 turn Power Up and Infinite Duration
– Increase Exp and Gold Rate
– 100% Monster/Buddy/Item Drop Rate
– Duplicate Monster Capture Enabled
– 0.5% SB gain w/ 1 skill activation
– Arena level Cap Removed
– Normal Exp Gained Increase
– Skip Battle
– Extended Movement Time
– Increased Activation Rate
Mod 1a:
-Mod1 + no skip battle
Mod 1c:
– Mod1 + no skip battle + normal sb gain + no duplication
Mod 1e:
– Mod1 + no skip battle + normal sb gain + instant kill
Mod 1f:
– Mod1 + no duplication
Added Mod 1f for those who wish to level up faster sb without all the monster drop
Mod Hexlord:
– Increase exp and gold rate.
– Increase normal exp gain
– 100% item/buddy/monster drop rate
– No monster duplicate
– Instant kill
Single Stage Boss Farm:
– 0 exp/gold gain
– instant kill + skip
– 100% drop rate + duplication
Boss Farm:
– Single Stage Boss Mod + infinite loop *
With the new cap increase, you can get over 9999+ cap now (still max out at 9999 items)
Download [Google Play]
[toggle title="Old Versions" state="close"]
Terra Battle v4.2.0 Mod APK | Mirror 1 | Mirror 2 | Mirror 3
[/toggle]