Home /
Mods /
Tank Fury Blitz 2016 v1.0 Mod APK
Description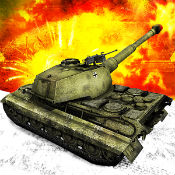 Tank Fury Blitz 2016 v1.0 Mod APK for Android.
The Neighboring Empires have invaded your Homeland with Heavy Monstrous Tanks loaded with destructive weapons. They are on the mission to establish their domination and to destroy each and every thing in the Battlefield.
The fear of the Massive and Modern weapons has created chaos and havoc in the city. You are a trained Army Commando who is going to fight alone with them on his Super Army Tank. Get ready to face the invaders, navigate through the city, aim your target carefully and open fire until the tanks explode. Call the Air Strikes whenever needed!
The hidden mines and turrets set up by the rivalry forces are there to distract you from your mission.
Be aware of the counter strikes of hostile tanks. Be the ultimate warrior in Tank Blitz 3D!
Defend your Nation in Clash of Tanks and Win the Battle of Glory!
Features:
Tank Upgrade System!
Stunning 3D Graphics!
Realistic Sound Effects!
Fight in Different 3D Environments!
Improved and Superior Navigational Controls!
Download [Google Play]
Tank Fury Blitz 2016 v1.0 Mod APK | Mirror 1 | Mirror 2 | Mirror 3