Description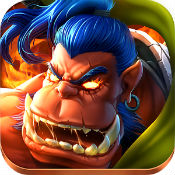 Storm Hunter v1.21209.2.0 Mod APK for Android.
Storm Hunter is an innovative 3D group battle RPG with a single finger to operate. The super clear 3D images with 1080p show us a magic western world perfectly. Only with one finger can you dominate the real-time battle easily.
More than one hundred of classical heroes are there for you, any five of them help you to build your elite team. Put your tactical mind to complete the expedition full of challange.
Storm Hunter invites you to join us!
– Various tactics:
Operate heroes manually to defeat opponents according to your tactics completely! Show you the real e-Sports Game strategy experience: block out, skill interrupt, Combo, cut in the back row… Are you ready?!
– Operate with a single finger: Move your finger flexibly to dominate the action mobile game.
Easy to operate, free to slide. Only one finger can control your heroes, instead of traditional fictitious controller. Just tap slightly to command your heroes.
– Real-time battle: Free to move as you wish.
Exciting real-time battle and controllable battle pace show you the real e-Sports Game experience. You can dominate every detail from move, attack to releasing ultimate skill. You are the real dominator of Storm Hunter!!!
What's New
1.Add server time in the setting interface.
2.Add Facebook link in the setting interface.
3.Campfire opens all day.
4.Change the font.
5.Fix bugs.
Mod info:
– Massive Damage
– Massive Skill Damage
– God Mode
Download [Google Play]